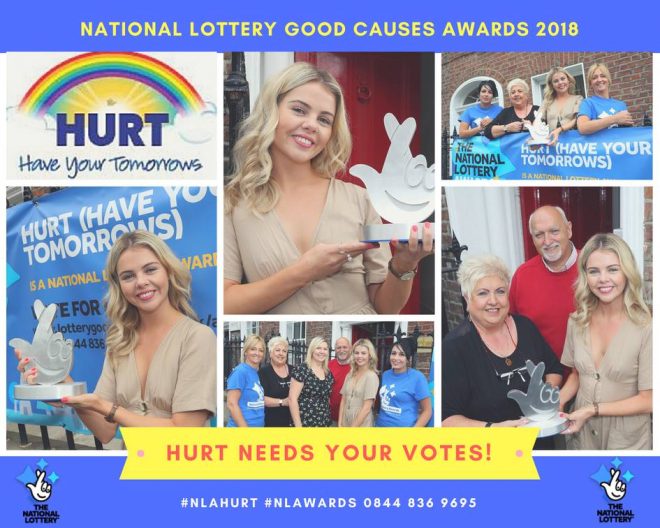 DERRY Girls star Saoirse-Monica Jackson visited a local charity yesterday to provide her support as they appeal for votes to be named Best Health Project in the 2018 National Lottery Awards.
Have Your Tomorrows (HURT) is a Derry-based family support group and suicide prevention charity which has been supported by the National Lottery.
HURT also offers help to people who are struggling with addiction and also their families.
Sadie O'Reilly, who founded the charity following the death of her son Tony from a drug overdose in 1999, said: "Over the years, we at HURT, must have worked with thousands of real-life Derry girls and boys and their families providing addiction support services.
"Funding from the National Lottery, through the Big Lottery Fund, has been crucial in helping us carry out this vital work. It would mean so much to us all to win a National Lottery Award and we are immensely grateful for Saoirse's support.
Saoirse-Monica added: "I was delighted to be able to meet Sadie O'Reilly and her fantastic team at HURT.
"Drug and alcohol addiction is such an important issue and Derry, like many other places, has its fair share of problems.
"However, it is heartening to learn that organisations like HURT can offer much needed help and assistance not only to people suffering from addiction but their families too.
"To win a National Lottery Award would be a fitting recognition for HURT and I hope everyone can get behind them and vote for them."
HURT said on its Facebook page: "We were delighted yesterday to have the star of the hit Channel 4 comedy 'Derry Girls' Saoirse Jackson come help support us in our bid to be named 'Best Health Project' in the 2018 National Lottery Good Causes Awards!
VOTE FOR US HERE
Tags: