The 'Big Surprise' is a 90-second weekly slot during the ad break of Saturday night primetime UTV/ITV shows – meaning local hero, Jason, is set to get national recognition with around 5 million people expected to tune in across the ITV network.
The Knights were founded in 1990 to help give disabled people the opportunity to get involved in team sport.
Jason originally came to coach a single session but 18 years later he's still volunteering at the club and his list of responsibilities has grown to include Head Coach, Club Chairman, fundraising organiser and ever-reliable taxi driver.
The club now has over 50 players from across the North of Ireland taking part with ages ranging from as young as seven right up to players in their forties.
Head Coach Jason and The Knights travel across the UK and further afield to compete in various wheelchair basketball leagues, with a recent success story being local star, James McSorley, who last year won an under-23 world championship with the GB Wheelchair Basketball Team.
For Jason's 'Big Surprise', The National Lottery arranged for him to meet his favourite team, The Harlem Globetrotters, at a recent game at the Bournemouth International Centre.
Jason enjoyed a special meet and greet with the team who presented him with a signed ball and even asked him to do the honorary 'tip off' at the beginning of the game. The National Lottery filmed the heart-warming results.
Fellow Knights Wheelchair Basketball Club member, Neil Carlisle, believes that no one deserved 'The Big Surprise' more than Jason.
"Jason has continually been a great coach and mentor to our junior players and senior players alike and I really can think of no one better suited than him," said Neil.
Jason was more than taken back with his 'Big Surprise', and said, "It's been fantastic, I wasn't expecting this whatsoever – it's been completely out of the blue. I was just coming here to watch the game and it's just been such as surprise and really nice as well."
His 'Big Surprise' will air at 7.58pm during the ad break on UTV and is the third of 17 short films which will be shown throughout the year, during ITV's primetime Saturday night TV schedule, that will celebrate and showcase National Lottery funded heroes across the UK.
The all-important Saturday night Lotto results will also continue to be delivered during the weekly slot.
The Knights Wheelchair Basketball Club was awarded over £29,000 of National Lottery funding to help them provide opportunities for disabled people to get involved in team sport and continue to promote a healthy lifestyle for disabled people and encourage more social inclusion.
The Knights have around 20 volunteers who give up their own time to support the club and help out at weekly training sessions at their two main training venues at Antrim Forum Sports Centre in Antrim and The Hammer Youth Centre in Belfast.
Since the very first draw in November 1994, The National Lottery has funded over 24,000 projects across Northern Ireland which has amounted to around £327 million of funding.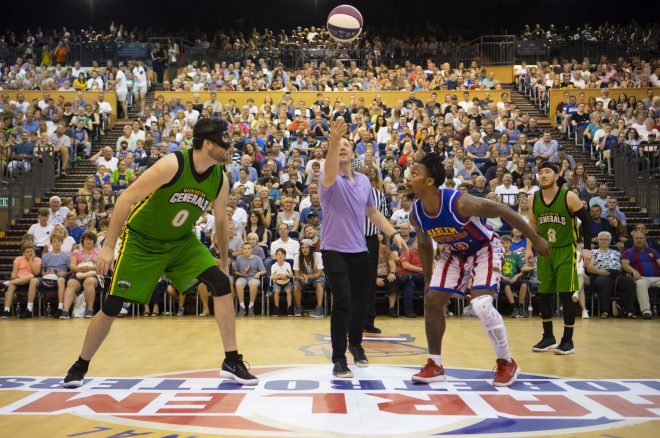 SLAM DUNK: Jason Kennedy, Head Coach and Chairman of Knights Wheelchair Basketball Club gives the honorary 'tip off' at the beginning of a recent Harlem Globetrotters game. Jason met the globetrotters, his favourite team, as part of The National Lottery's 'Big Surprise' which honours individuals who made a real difference with the help of National Lottery funding.
'The Big Surprise' is the continuation of the return of The National Lottery results to primetime TV through a commercial partnership with ITV (from 14 April 2018), and follows the success of 'Race to the Numbers' where members of the public were given the chance to win £10,000 at National Lottery funded venues across the UK.
For more information on National Lottery funding please visit: www.lotterygoodcauses.org.uk
For more information on Knights Wheelchair Basketball Club please visit: http://www.niknightswbc.co.uk/
Tags:
THE National Lottery's 'Big Surprise' – which honours individuals who have made a real difference with the help of National Lottery funding – will this weekend (14 July) make a dream come true for Derry man Jason Kennedy, Head Coach and Chairman of the Knights Wheelchair Basketball Club.