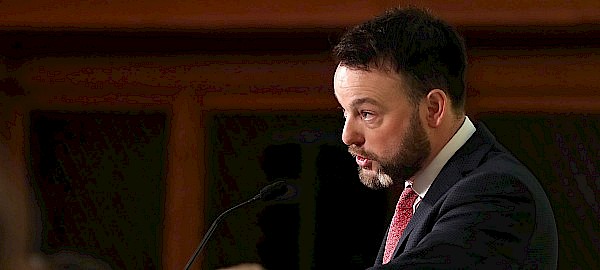 SDLP Leader Colum Eastwood said he was "incredibly angry and incredibly frustrated" following confirmation from the EU that the UK Government's backstop plan would create a hard border in Ireland.
Speaking ahead of the two day long Brexit debate at Westminister on the EU Withdrawal Bill, Mr Eastwood said there was a "genuine opportunity" for MPs to do the right thing by Ireland and warned those who choose not to will be "complicit in delivering a hard Brexit and a hard border".
The DUP have already stated they will shore up Theresa May's Tory government voting with it during the crunch House of Commons debate.
Mr Eastwood said: "The EU Commission has confirmed what we all feared – the British Government's proposals on the backstop aren't good enough.
"The Commission has warned that the current proposals from the British Government would lead to hard border in Ireland – that is simply unacceptable.
"I am incredibly angry and incredibly frustrated that we have reached this point. A point where the British still have failed to put the seriousness of the border issue to the top of the agenda. We should not be an after thought.
"With news that we may have to wait until October to get reassurances from the UK Government that there will be no hard border – others across these islands need to wake up. We cannot allow the British Government to sleep walk into disaster.
"A difficult and dangerous disaster for those of us living in this part of Ireland.
"This week there is a genuine opportunity for MPs to do the right thing. To vote in Westminster to stop a hard Brexit and stop a hard border in Ireland.
"That means backing alignment with the Customs Union and the Single Market. It also means fully supporting the Good Friday Agreement."
Tags: