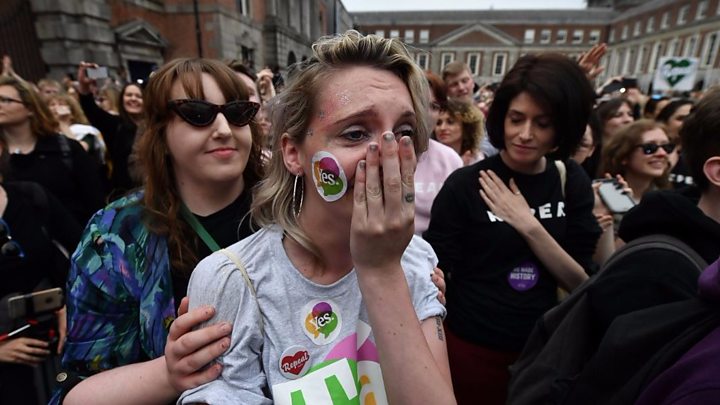 A NEW abortion law will be in place by the end of year, Taoiseach Leo Varadkar has said.
It follows a landslide vote in favour of repealing the Republic's constitution ban on abortion.
Donegal was the only county of 26 that voted No.
The proposed legislation will allow abortions during the first 12 weeks of pregnancy, and up to the 24th week in exceptional circumstances.
Irish Minister for Health Simon Harris will seek the cabinet's backing on Tuesday to draft the new legislation.
Mr Varadkar said Saturday would be remembered as the day Ireland "embraced our responsibilities as citizens and as a country".
"The day Ireland stepped out from under the last of our shadows and into the light," he added.
"The day we came of age as a country. The day we took our place among the nations of the world."
More than two thirds of voters backed the decision to change the law with every constituency in the Republic of Ireland.
The referendum delivered a conclusive consensus for reform among men and women, nearly all age groups and across most counties.
The final figures were 66.4% in favour of the change and 33.6% voting no.
The Eighth Amendment was inserted into the Irish constitution in 1983 and it gave an equal right to life to both a mother and an unborn child.
Thousands of Irish women travelled to the UK every year for abortions, or sourced abortion pills.
Anti-abortion groups called the referendum result a "tragedy of historic proportions" with one saying it was already making plans to protest outside abortion clinics when they eventually open in Ireland.
The result south of the border has shifted focus to Northern Ireland's similarly strict abortion regime, with Prime Minister Theresa May facing calls to act.
The North of Ireland will soon become the only part of Britain and Ireland with an almost blanket ban on terminations.
It is reported on Sunday that female Tory MPs now want British Prime Minister Theresa May to bring the North of Ireland into line with Britain and Ireland.
But the Tory leader will face fierce opposition from the DUP who are opposed to abortion.
Tags: