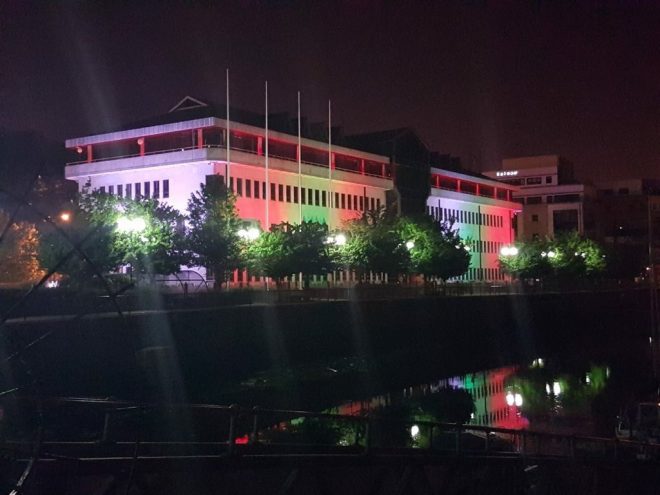 THREE sites in Derry and Strabane were lit up in the colours of the Palestinian flag last night following a motion carried in support of those embroiled in the conflict of Gaza.
Council members unanimously voted for the show of solidarity at a special meeting of Council on Monday of this week.
The Guildhall, the Council Offices and the Let the Dance Begin (Tinneys) sculpture in Strabane were lit up red, green, black and white at 11pm, and will remain lit up for 48 hours.
The Mayor of Derry and Strabane, Councillor Maolíosa McHugh, opened a Book of Condolence earlier this month to allow local people the opportunity to express their sympathy for the families affected by a recent attack on protestors.
Encouraging people to show their support the Mayor said it was important that the public took a stand against such acts of violence.
"The scenes from Gaza are deplorable and shocking and we can no longer just sit back and accept the slaughter of men, women and children in the Middle East," he said on opening the book.
"It's imperative that we provide the people of Derry City and Strabane District Council area with a forum to express their sympathy and voice their opposition to the violence.
"By opening a Book of Condolence in the Guildhall, I am encouraging the public to express their sympathies and solidarity to the families of those who died or were injured and show solidarity with the people of Palestine."
The public can still sign the Book of Condolence which is open at the Guildhall daily from 10 am to 5 pm.
Tags: