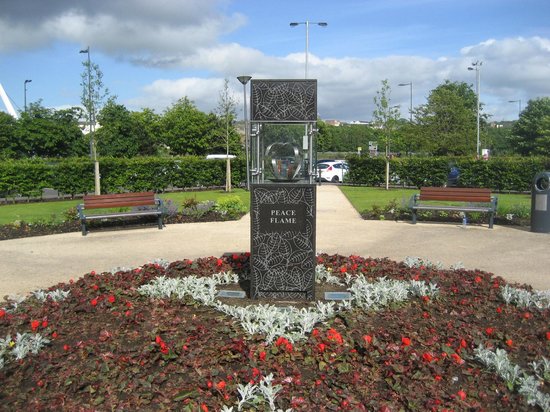 DERRY City and Strabane District Council have issued an appeal to the public after a series of incidents of vandalism at the city's Peace Flame installation.
The flame, which is situated in the green public space in Foyle Street adjacent to the Guildhall, has now been restored to full working order after damage which, coupled with ongoing technical difficulties, has meant the piece has only worked intermittently since its installation in 2013.
Mayor of Derry City and Strabane District, Councillor Maolíosa McHugh, said the flame had now been restored and appealed to the public to ensure it remains a feature to be enjoyed by all.
"We are delighted to say that after much work to repair the flame and resolve some design faults which have been an issue since it was installed, the Peace Flame is now up and running again.
"The feature is a symbol of hope and peace and is there to be enjoyed by everyone.
"Unfortunately, however, it has also been a regular target for vandals which has resulted in some damage to the flame over the years.
"I want to commend everyone who has worked so hard to restore it and take this opportunity to appeal to everyone to ensure that, in keeping with the spirit that it represents, the flame is now treated with the respect it deserves."
The Peace Flame was first brought to the city during Derry's City of Culture year as part of a global peace initiative by the World Peace Foundation, and was lit in the presence of Martin Luther King III in May 2013.
The campaign to have it introduced locally was led by Dr David Latimer from First Derry Presbyterian Church, who met with representatives of the Foundation in Amsterdam to explore the possibility of the Peace Flame extending into Northern Ireland.
The foundation was greatly impressed by the participation of young people of all ages across the former Council area in actively promoting peace making.
Welcoming the news that the flame has now been restored to full function, Dr Latimer said:  "Difficulties associated with keeping our flame burning serve to remind us there is no magic formula to suddenly make all things new. Peace is a daily, a weekly, a monthly process gradually eroding old barriers and quietly building new structures.
"The brightly burning Derry/Londonderry Peace Flame represents the change we each can make by the way we think, speak, feel and act so as to bring about a better future for all regardless of age, colour, creed or culture."
The World Peace Flame, was first lit in July 1999, spreading to most countries around the world, as a universal symbol of peace and harmony and the creation of a shared and inclusive community.
Tags: