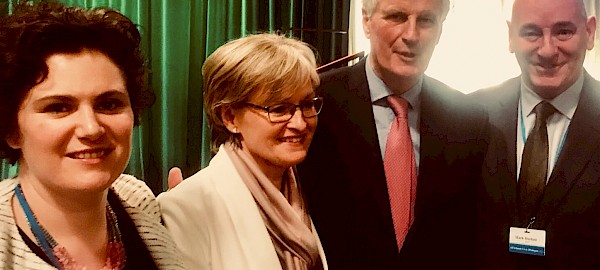 THE SDLP made it very clear at the All Island Civic Dialogue that the Good Friday Agreement should be used to protect citizens right across this island from the damage posed by Brexit.
Speaking at the All Island Civic Dialogue, the SDLP's Mark Durkan. who was a key architect of the Good Friday Agreement said:
"I am not positive about Brexit per se – but I am positive about the prospectus people voted for with the Good Friday Agreement.
"It provides the chassis which can take relationships on this island, and between these islands, both through and after the damage Brexit might bring."
Also attending, SDLP Brexit Spokesperson Claire Hanna MLA added:
"Brexit poses a significant risk to the lives of citizens right across Northern Ireland. While the Good Friday Agreement has received a lot of lip service in chambers across these islands, it hasn't been harnessed to protect us from the challenges of Brexit.
"As others continue to divide and polarise our community as we face one of the most challenging times, the SDLP is saying very clearly to all Governments at the negotiating table to use the agreement to bring about a unique solution for our circumstances.
"Just as we did in 1998, we must again reach an accommodation that will not only protect our economic and social interests but also not threaten the political interests of anyone on this island.
"The spirit behind the Good Friday Agreement must be utilised again, it holds many answers and poses no threat to any community.
"The SDLP had good engagement with Michel Barnier today at the All Island Civic Dialogue. We welcome that Mr Barnier understands the uniqueness of the challenges facing Ireland and the need to protect our peace accord during the negotiations.
"The restatement by both the Irish Government and the EU of their determination for negotiations to reach a settlement that protects all citizens here was welcome and reassuring.
"However, with the absence of an Assembly it is absolutely critical that the EU Commission reaches out and engages with a wide range of thought."
Tags: