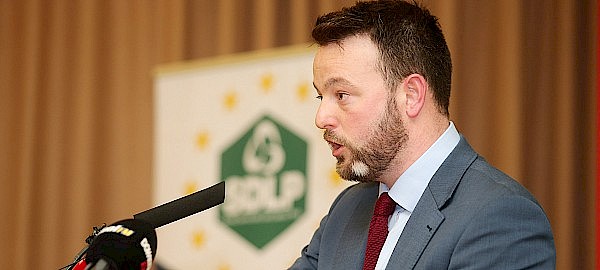 THE SDLP has said that a report in today's Belfast Telegraph that it would be prepared to step aside to allow Fianna Fail an electoral run in the North of Ireland as "no more than speculation".
A statement from the party has said its politics remain "crucial to the future of this island" and it would not abandon its vision for a "reconciled people in a New Ireland".
The paper's political editor Suzanne Breen wrote that she had been told by senior party sources that around 80% of the party would support "leaving the stage" to make way for Fianna Fail in a future election.
Sources within the party also state a merger was not a possibility as it would be unfair to those within the SDLP who identified more with the Irish Labour Party.
Party leader Colum Eastwood said the SDLP was having "a conversation with other parties about the new political context as a result of Brexit".
"Our immediate focus is on responding to that change. Is there a possibility of change that leads in future to political realignment? Yes, there is. But that is a conversation for another day," he said.
The SDLP has now hit back, with a spokesperson saying: ""Comments from unnamed sources amount to no more than speculation.
"As a political movement born from the civil rights movement, that led the formulation of the Good Friday Agreement, at huge times of change it is the SDLP who find the solutions. Our politics is needed now to bring people back together as others focus only on pulling people apart.
"The SDLP is always up for the conversation about how we meet the challenges facing this island particularly in the changing context of Brexit.
"The SDLP has and will continue to work with all parties across the island in pursuit of the best solutions to protect the interests of all people here.
"As we have always said realignment across the island cannot be ruled out in the future.
"But our focus remains on working to stop a return to British Direct Rule by restoring devolution to protect the interests of people here through a locally accountable government."
Tags: