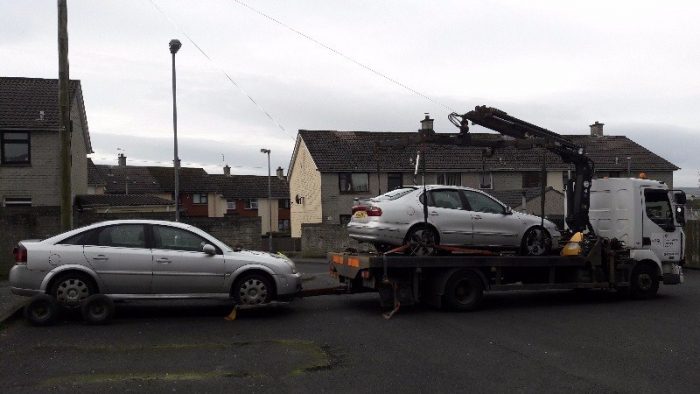 POLICE say they determined to target and remove dangerous and illegal vehicles from the streets of Derry.
And they want the public's help in reporting dangerous cars, banned drivers and illegal vehicles on the roads.
Officers seized these two untaxed vehicles in the Shantallow area this week as the crackdown continues.
PSNI Foyle say on its Facebook page: "Recently there has been a lot of talk of vehicle crime in Derry with multiple vehicles being driven in a dangerous manner and on occasions being burnt out around the city.
"In Derry City & Strabane district area, police continue to proactively address this issue through targeted patrolling of affected areas.
"As a result of this we have detected various motoring offences including vehicle theft, Disqualified Driving and Dangerous Driving to name a few.
"Offenders have been prosecuted and vehicles seized.
"We will continue to carry out these patrols and would appeal to all. Report suspicious vehicles or behaviour to us as this will help us tackle the issue.
"Another way we attempt to deal with this problem is by reducing the potential of run arounds being sold to or stolen by those who intend to cause havoc.
"We do this in conjunction with DVA by seizing SORN'ed vehicles.
"These vehicle should not be on a road or public place. Two such vehicles were seized from the same back square in Shantallow yesterday.
"If you have concerns about vehicles in your area report them to police so the relevant checks can be made."
Tags: