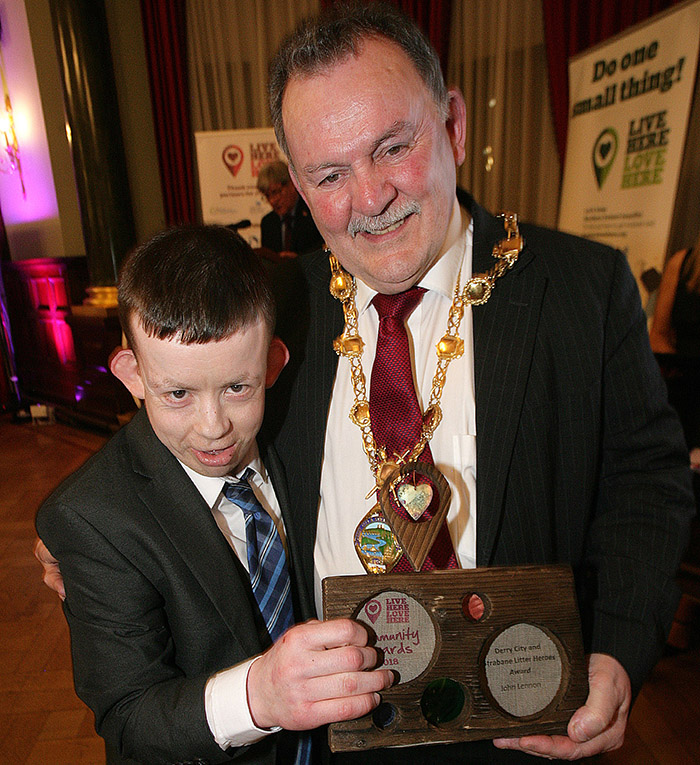 CREGGAN Country Park volunteer John Lennon has had his tireless work to keep the local facility clean and tidy honoured with a Litter Heroes award at the Live Here Love Here Community Awards in Belfast.
The awards, hosted by Keep Northern Ireland Beautiful, aim to recognise the volunteers who instil pride in their local community through practical environmental action.
The 27 year-old received his award from Mayor of Derry City and Strabane District Council, Councillor Maolíosa McHugh, at the event which was hosted by Derry man and Lesser Spotted Journeys presenter Joe Mahon at the Harbour Commissioners Office in Belfast on Tuesday night.
There were fourteen award winners in all, aged 5 to 77, who showed that caring for their local environment and working to make a change is a passion that spans all generations.
"I would like to congratulate all of the winners at this inspiring event and in particular our own local hero John Lennon who has shown exceptional pride in keeping his local area clean and presentable for local people and visitors alike to enjoy," said Mayor McHugh.
"John has been volunteering at the Creggan Country Park since 2014 and his shown tremendous dedication in keeping the 100 acre site free from litter and making it a cleaner, greener, safer and more sustainable facility.
"Our own City and District is kept clean and tidy thanks to the selfless action of local volunteers like John and our own dedicated cleansing department in Council who help make it an area we can all enjoy and be proud of."
Dr Ian Humphreys, CEO of Keep Northern Ireland Beautiful added: "We are all remembered for our actions and everyone involved in Live Here Love Here, whether volunteer or funding partner, is changing people's lives for the better and leaving a lasting legacy.
"With 170 nominations for tonight's awards it is obvious that there is a growing movement of people who act because they care."
Keep Northern Ireland Beautiful run a number of campaigns and programmes that embody the values of Live Here Love Here which would not be possible without the help of their dedicated volunteers.
If you would like to find out more or get involved with Live Here Love Here please visit our website; www.liveherelovehere.org or contact [email protected].
Tags: