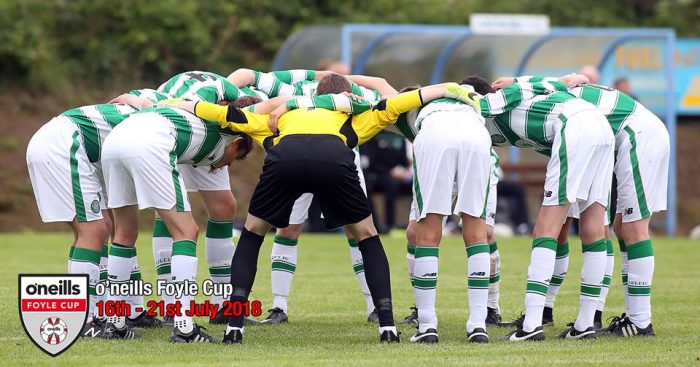 THE reputation of the O'Neills Foyle Cup is spreading all the world.
It is now the largest youth football tournament in Europe.
Earlier this month Ireland's premier sportswear company O'Neills came on board to sponsor the Foyle Cup until 2020.
O'Neills Foyle Cup say on its Facebook page "No fewer than 20 teams and large numbers of family members from the USA 
️ are travelling to compete in this year's O'Neills Foyle Cup competition.
"We'd also like to mention that two teams are on the waiting list – pending securing accommodation! 
"The Foyle Cup Tournament has also received TWO entries from Ghana! 
"Good news appears to be travelling all over the world about the Foyle Cup!
"We're proud to host our international visitors each year."
The O'Neills Foyle Cup will see 370 teams and over 6,500 kids take part in a six day festival of football throughout Derry, Strabane, Limavady, Coleraine and Donegal.
The tournament attracts major teams including Celtic FC, Hearts FC, Partick Thistle, Norwich City, and Sheffield Utd as well clubs from France, Finland, Germany, USA and Canada.
The O'Neills Foyle Cup is also the most heavily scouted tournament in the UK.
The 2018 tournament will coincide with O'Neills Irish International Sports Company Limited celebrating 100 years in business.
As a 100% Irish owned company, the partnership with the O'Neills Foyle Cup embodies their ongoing commitment to encouraging local sport.
Michael Hutton, Foyle Cup Chairman added: 'We are thrilled to have O'Neills on board as our title sponsor.
"Their commitment to seeing local sport succeed and in particular to see football in the region flourish, resonated immediately with our tournament ethos.
"The partnership affords us the opportunity to grow the tournament and we are both excited about the benefits that it will offer the grassroots game in the Foyle area and beyond."
The O'Neills Foyle Cup will take place from Monday 16th to Saturday 21st July 2018.
Visit www.foylecup.com for more information
Tags: