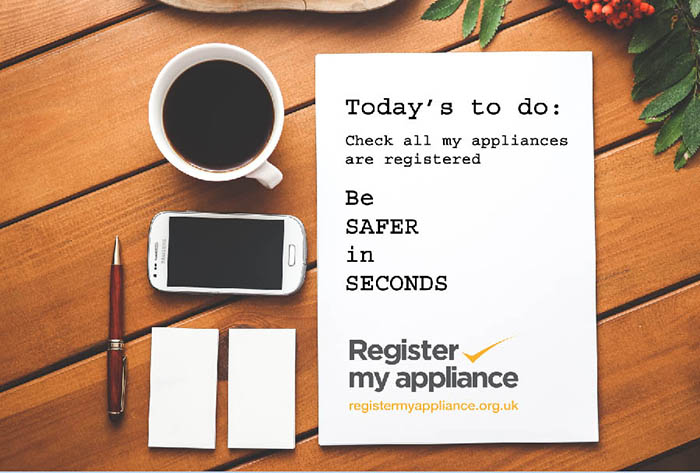 LOCAL people are being advised to protect themselves and their homes by officially registering their appliances on Register My Appliance Day, January 16th.
The scheme aims to assist companies in recalling faulty and potentially harmful white goods by being able to directly contact owners registered on a special database.
Register my Appliance is led by AMDEA and is supported by Government departments and the fire and rescue services, among many others, who believe registration of both new and older appliances is critical to enable manufacturers to act swiftly in case of a recall.
Head of Health and Community Well-Being with Derry City and Strabane District Council Seamus Donaghy encouraged householders to join the scheme.
"The registration process is very straightforward and the scheme offers extra reassurance that appliances are completely safe and if any fault is detected action can be taken swiftly to warn owners," he stressed.
"It takes just seconds to ensure that your home is protected and both older and new appliances can be registered for many brands. I would really encourage everyone to take this opportunity to sign up."
AMDEA is the UK trade association for manufacturers of large and small domestic appliances; representing over 85% of the domestic appliance industry and nearly 90% of white goods brands.
Members' products include most of the UK's top selling brands of major white goods, other large and small kitchen appliances, heating, water heating, floor care, waste disposal and ventilation equipment.
Appliances can easily be registered online via phone or computer at www.registermyappliance.org.uk.
To make it easier still, a streamlined version of the site, for smartphone registration, was launched recently to encourage many more people to take the smart path to make their homes safer in seconds.
On January 16th millions of customers will receive a message from their favourite brands of domestic appliances, prompting them to reach for their phones and register any of the 65 brands featured, most of which accept registrations of products up to 12 years old.
With new research in progress, Register My Appliance Day will also see the latest results around the registration of home appliances and will look to a future when no appliance owner will be left off the radar, if a safety repair is needed.
Tags: