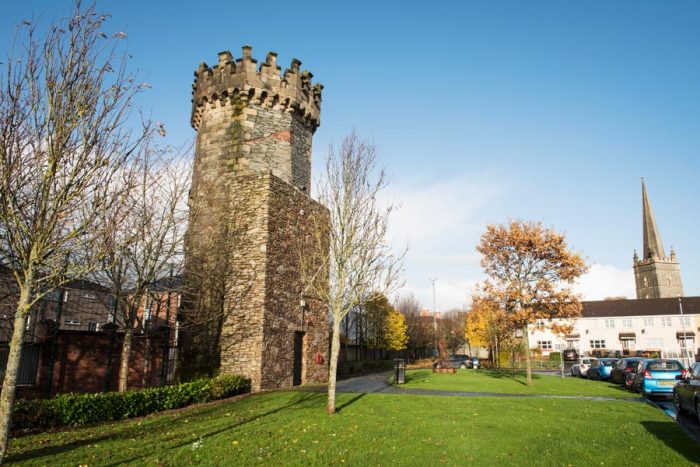 THE International Fund for Ireland today confirmed €4.6m/£3.8m of financial assistance that will be shared between 32 community projects in Northern of Ireland and the Southern border counties.
Among the 32 are a number of groups across Derry who share over £900,000 in funding.
The funding, approved at the organisation's recent Board Meeting in County Cavan, will see €2.2m/£1.9m shared among 15 projects that support vulnerable young people to reengage in training and learning activities and reduce the risk of being drawn into violence, crime and addiction.
More than €1.6m/£1.3m will be shared among 12 Peace Impact projects that work to address difficult issues linked to the legacy of conflict and some will engage with young people who are at risk of becoming involved in sectarian or anti-social activity.
A further €770,000/£641,000 has been allocated to five initiatives that are developing new dialogue on the future of Peace Walls.
Dr Adrian Johnston, Chairman of the International Fund for Ireland, said:
"We are pleased to award financial assistance to the 32 projects and commend them for their bravery and leadership in challenging environments.
"Sustained political deadlock, reduced public spending and Brexit have placed new pressures on marginalised communities. This allocation of funding is timely and supports urgent action at a community level.
"The risks that projects are taking are paying dividends at a difficult time for communities and the Peace Process. They have been active in creating new opportunities for people to engage in peacebuilding activities, transform lives and disrupt the cycle of violence."
He added:
"Our work over the decades has been conducted in parallel with a political process. While the crisis facing the political institutions in Northern Ireland cannot be underestimated, it remains our hope that the political parties will resolve once again to form a partnership government."
The Chairman took the opportunity to thank the international donors to the Fund – the European Union and the Governments of the United States of America, Canada, Australia, New Zealand – for their support.
DERRY/CO DERRY
€281,469/£234,558 to Have Your Tomorrows (HURT) for a two-year project that will provide a structured programme of training and support to 24 young people aged 16-25 years, in a cross-community basis from targeted areas in the Derry City and Strabane District Council area. The project will assist young people to build their portfolio of skills and progress on to their desired career path or into further or higher education.
€228,834/£190,695 to Sperrin Cultural Awareness Association to extend its GRASPED (Good Relations and Social Personal Employment Development) Project. The Magherafelt-based youth project operates across Mid Ulster and South Antrim and engaged 15 young people in its first year. The extension will enable this group to advance on to new training activities and see 15 new participants engage in personal development and good relations activities.
€6,000/£5,000 to Lettershandoney & District Development Group to develop a community project as part of the wider 'Tús Nua – New Start' youth project. This new element will encourage participants to play a greater role in their community by co-designing, planning and implementing a youth event.
€12,000/£10,000 to Roe Valley Residents Association to develop a community project as part of the wider the 'Building Better Futures' initiative. This new element will see project participants design and deliver separate community focused initiatives that address key issues relevant to them. It will give participants a chance to positively engage in their community while improving self-esteem, confidence and ability to enter the worlds of employment or further education.
€119,967/£99,973 to Creggan Enterprises Limited (CEL) for a 12-month extension of the Unheard Voices project within four cluster areas in Londonderry/Derry City, Strabane, South Londonderry/ Derry and Donegal. The project engages with Women around conflict-related issues on a cross-community and cross-border basis, creating the opportunity for their voices to be heard.  It also engages young women through schools and community outreach initiatives and offers a range of accredited training. 
€91,848/£76,540 to James Connolly Cultural Youth Group (JCCYG) to extend a project that engages young people in learning, training, social economy activities and cultural initiatives within and between communities.
€113,220/£94,350 to Londonderry Bands Forum (LBF) for a one-year extension of a project that focuses on cultural outreach, engagement and education activities. The project has helped build positive leadership and create new opportunities to build cohesion and intra/inter-community relations around difficult and divisive issues.
 €113,880/£94,900 to Teach Na Failte Sperrins & Glens (TnaF S&G) for a one-year extension of a project that operates across three cluster areas in North Antrim, North Derry and South Derry.  The project will continue to engage with those who have been marginalised or excluded from peace building activities.
€133,117/£110,931 to Bogside and Brandywell Initiative (BBI) Peace Walls Project
Tags: