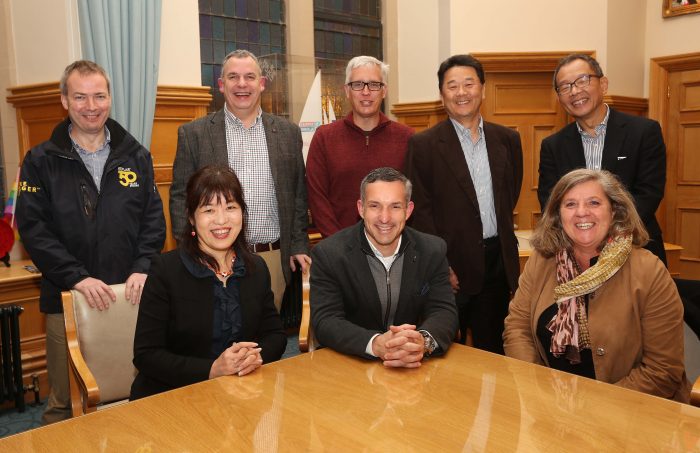 A delegation of senior staff from DuPont attended a City Welcome in the Lord Mayor's Parlour at the GuildHall in Derry this month after an invitation from the Derry City & Strabane District Council.
The delegation, which included DuPont representatives from America, Japan as well as Maydown, were in town as part of a share and learn scheme between manufacturing plants and to update the Maydown team on business progress and their role in the global supply of Kevlar®.
Pictured from back L to R are: Brian McLaughlin (HR Consultant, DuPont), Paul Kirkpatrick (Organisation Manager, DuPont), Greg Parker, (Global Marketing Manager, DuPont),Akira Hirai (General Manager, TDC Kevlar®), Michiyuki Nakase (President DuPont-Toray Co., Ltd. General Manager of TDC Kapton®).
Front L to R: Chie Okabe (Business Liason to TDC, DuPont KK), John Richards (Global Business Director – Aramids) and Petra Grashoff (Plant Manager, DuPont).
Tags: