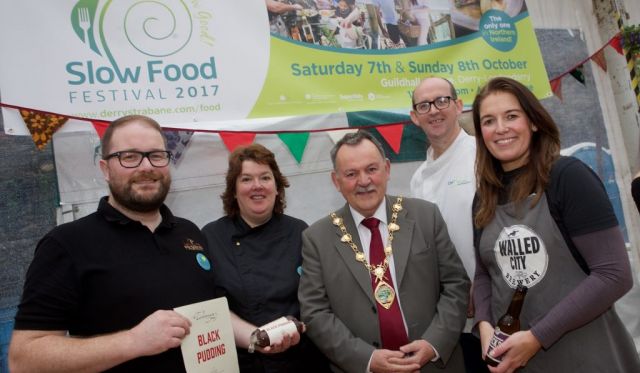 THE Slow Food Festival organised by Derry City and Strabane District Council has been hailed as yet another "resounding success".
Thousands of dedicated foodies flocked to the two-day event which brought a feast of flavours to Guildhall Square at the weekend.
The Mayor, Councillor Maolíosa McHugh, said he was delighted that so many local and international visitors attended the popular festival which celebrated the best of good, clean and fair food produced locally and ethically in the North West and wider region.
Praising the Council's Tourism department, artisan food producers, chefs and craft brewers involved in the event, Cllr. McHugh said it had succeeded in building on the momentum of last year's festival which was one of the major highlights during Northern Ireland Year of Food and Drink 2016.
A number of the exhibitors and street vendors were sold out of their produce as Northern Ireland's only Slow Food Festival attracted thousands of visitors on both Saturday and Sunday from 12 noon until 6pm.
The event showcased top quality produce from fresh fish to charcuterie, preserves to hand-made confectionery, locally made honey, cheeses, granola, rapeseed oil and organic vegetables.
Guildhall Square was buzzing throughout the event with foodie followers queuing up for the impressive see-through festival marquee to open well before the appointed starting time.
The star attraction was Tom Hunt, eco-chef, food waste campaigner and author of 'The Natural Cook: Eating The Seasons From Root to Fruit,' who wowed festival-goers with his philosophy of eating every part of an ingredient, animal or vegetable, so that absolutely nothing is wasted.
One local producer for whom the event proved to be a runaway success, was Ciaran Breslin of Breslin Butchers who were completely sold out of their Tirkeeran Black Pudding developed in partnership with the Foodovation Centre at North West Regional College, which went on sale for the first time during the festival.
Describing the response to the new regional gourmet pudding as "amazing", he said: "The feedback has been phenomenal and exceeded all expectations this weekend.
"We had to hold some of the puddings back on the first day and we were completely sold out at 2pm on Sunday."
The Walled City Brewery also launched its new '1689' beer inspired by an ancient brew dating back to the Siege of Derry, which too was developed using added expertise from the Foodovation Centre.
Alastair Crown of Corndale Farm in Limavady, described the Slow Food Festival as "brilliant," with all of his award-winning spicy chorizo and fennel salami flying off the shelves.
He added: "It is definitely the best food event in the North West, if not the best in the North. People are genuinely interested in the food, they are willing to buy and willing to engage with the producers. I am looking forward to next year's event already."
Paula McIntyre, Director of Slow Food NI, said the festival had evolved since last year when 25,000 people attended over the two days, creating better awareness and understanding about Slow Food which is the antithesis of mass produced, fast food.
"We set up a Slow Food information point this year and we have a few new members signed up. We have also had a lot of international visitors – Dutch, Canadian and Italians – which is fantastic.
"Tom Hunt, the eco-chef, was also very impressed. We met at the Slow Food Festival in Turin and he was saying that Derry reminded him of Turin with similarities between both cities."
The Slow Food global movement was set up in the 1980s in Italy and it now has around 80,000 grassroots supporters in 150 countries subscribing to the ethos of good, clean and fair food with a commitment to local communities and the environment.
The Slow Food Festival featured live cookery demos by some of the North West's most talented local chefs as well as dishes created by popular celebrity chefs Paula McIntyre and Brian McDermott who were also both comperes during the two-day event.
A Craft Beer garden was also a popular new addition to this year's event.
Jennifer O'Donnell, Tourism Manager with Derry City and Strabane District Council who was the main organiser of the event, said:
"We are really delighted with the huge turnout of visitors to the Slow Food Festival again this year.
"There has been overwhelmingly positive feedback from our producers, chefs and craft brewers and we are looking forward to making this an annual event."
She added: "The Craft Beer Garden with tastings of local craft beer and cider also proved very popular with the public.
"We were also delighted to see so many children enjoying the family fun at the Kidz Farm and smoothie bike machine located adjacent to the marquee in Guildhall Square."
The Slow Food Festival was organised by Derry City and Strabane District Council with funding from Tourism NI and the Department of Agriculture, Environment and Rural Affairs (DAERA) NI Regional Food Programme, supported by Slow Food NI and sponsored by Supervalu which also hosted live cookery demos by its food ambassadors who included 'Edible Gardener' Jilly Dougan, author of 'Sow, Grow, Munch' with lots of tasty food samples and give-aways on offer for festival-goers.
Martin Graham, Tourism NI Regional Manager commented: "The Slow Food Festival is a lasting legacy of the Northern Ireland Year of Food and Drink, it creates an opportunity to showcase the destination's key food and drink offering which continues to impress national and international visitors alike."  
Louise Millsopp, Head of Agri-Food Support Branch, DAERA, who attended the event on Saturday, said: "We are pleased to be providing support to the Slow Food Festival through the Northern Ireland Regional Food Programme.
"Now in its second year, the festival provides a great platform for artisan food and drink producers to showcase their high quality, award-wining, local produce."
Tags: