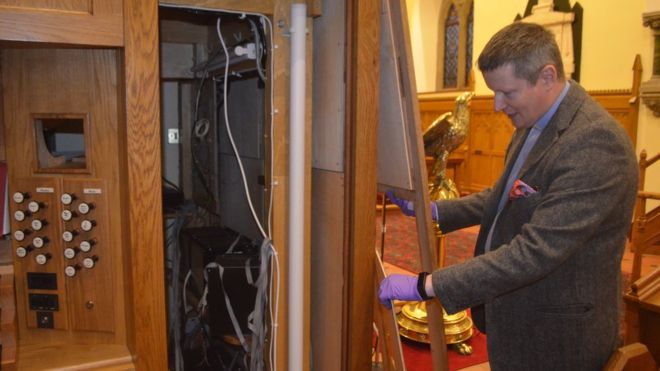 VANDALS who broke into a Derry church have smashed windows and damaged an organ reputed to be one of the most beautiful in Ireland.
The burglary at Christ Church on Infirmary Road was discovered late on Tuesday.
A decanter used in Holy Communion services was also stolen.
Police have yet to establish a motive for the attack, which the Bishop of Derry and Raphoe, the Right Rev Ken Good, has described as "sacrilege".
The vandals are believed to have broken in through one of the church's stained-glass windows, before smashing a panel behind the organ, said Archdeacon Robert Miller, the rector of the Christ Church, Culmore, Muff and Saint Peter's group of Church of Ireland parishes.
"They climbed in behind the organ and used broken glass, probably from bottles of altar wine which they'd smashed, to cut parts of the mechanism which makes the organ work," he said.
Archdeacon Miller said the organ at the Infirmary Road church was likely to be out of action for some time.
"Our church organist was heartbroken when he saw the extent of the damage," he said.
"The instrument was installed in 2000, four years after the previous organ had been destroyed in a fire. So, this latest act of vandalism has come as a severe blow to us."
Bishop Good said he "felt deeply" for the parishioners of Christ Church.
"I can assure them that the people who would perpetrate such an outrage are small in number and in no way represent the vast, vast majority in our community who want to live in peace and harmony."
One parishoner posted pictures of the damage on Facebook and branded those behind the burglar as "vermin".
"It is with great sadness and extreme anger to share that Christ Church has been broken in to, and extensive damage has been carried out to the organ console/chamber.
"The pictures probably don't seem like much, but I can assure you it has well and truly been vandalised.
"To top this all off, whoever carried out this act decided to defecate and 'clean up' with a page taken from a sacred psalter book.
"As some of you may or may not know, the organ in Christ church is regarded as one of the most beautiful organs in all of Ireland.
"At the minute we don't know the full extent of the damage, but enough has been carried out to put it out of action for the foreseeable future.
"Can I appeal for people to share this and inform Robert S Miller, Katie McAteer of any unusual activity they have seen around Christ Church/Brooke Park between Sunday afternoon – Tuesday evening."
The message end saying: "Absolute vermin."
Tags: