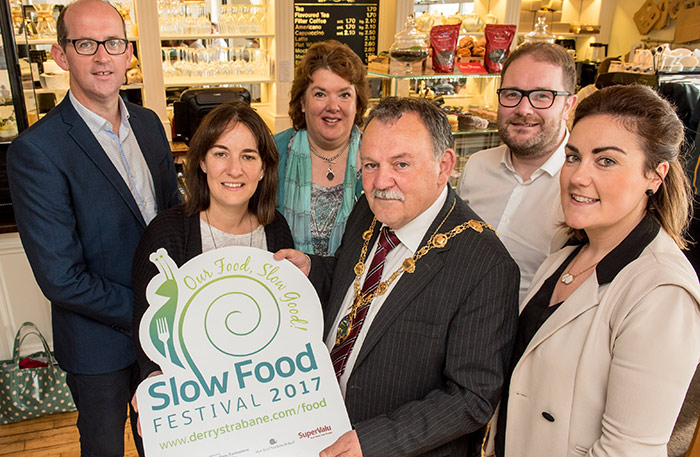 THE North of Ireland's only Slow Food Festival, organised by Derry City and Strabane District Council, will celebrate its return to Guildhall Square next month with the launch of two new high quality local food and drink products as part of the major grassroots culinary showcase which attracted a bumper 25,000 visitors to the city last year.
The new home-grown products – Walled City Brewery's eagerly anticipated '1689' Siege beer and Breslin Butchers' Tirkeeran Black Pudding which have both been skilfully developed with prominent local chef Brian McDermott in his capacity as manager of the Foodovation Centre at North West Regional College – will be unveiled during the two-day Festival which is taking place on Saturday October 7th and Sunday October 8th 2017 from 12 noon until 6pm.
Internationally renowned eco-chef and food writer Tom Hunt will be the special guest at this year's family-friendly, free admission event held during Slow Food Week to celebrate the best of local, clean and fair food, which is not mass produced.
The Festival is funded by the Department of Agriculture, Environment and Rural Affairs (DAERA) NI Regional Food Programme, supported by Slow Food NI and sponsored by Supervalu.
The Mayor of Derry City and Strabane District, Councillor Maoliosa McHugh, warmly welcomed the return of the second Slow Food Festival and said he was delighted that Council was continuing to build on the success of last year's event and the legacy of Northern Ireland Year of Food and Drink 2016 when the North West scooped a number of major industry awards and the overall title of NI's 'Destination Delicious'.
This year's Slow Food activity, centred in and around an impressive clear sided and roofed marquee, is once again expected to have foodies flocking to Guildhall Square for the return of the Harvest Fayre attended by around 20 artisan producers from throughout the North West and further afield; live cooking demos on the main stage; and new to this year's event, a Craft Beer Garden where visitors can sample some uniquely local brews including Walled City Brewery's new beer, inspired by an ancient ale recipe dating back to the Siege of Derry.
Festival-goers will be completely spoiled for choice with a wide range of fresh meat, charcuterie, fish, fruit, veg, cheeses, breads, desserts, preserves and ice-cream including a local vegan brand as well as some traditional Irish heritage dishes to savour in the marquee and from selected vendors in Guildhall Square.
Councillor McHugh added: "Derry City and Strabane District is once again leading the way as an international food tourism destination.
"This Festival provides a unique showcase for local provenance with the opportunity for people to talk to the people who actually produce what is on offer and hear the story behind it.
"This is very much in keeping with the ethos of Slow Food's core principles of quality, flavoursome and healthy food; production that does not harm the environment; and fair pay and conditions for producers.
"As well as all the culinary activity and natural buzz surrounding this event, there will also be live music and singing by popular local artists to add to the festival atmosphere and plenty of free children's activities including a petting farm and smoothie bike machine to keep families entertained during the two-day event."
Jennifer O'Donnell, Tourism Manager with Derry City and Strabane District Council, explained that the Slow Food Festival embraces the aims and objectives of the global, grassroots movement founded in Italy in 1989 with supporters in over 150 countries, which links the pleasure of food with a commitment to local communities and the environment.
She continued: "We have a fantastic line-up of local artisan producers, craft brewers and talented local and celebrity chefs joining us for what we hope will be another very successful festival event taking place to celebrate Slow Food Week, as well as two exciting new local product launches to whet the appetites of foodie fans.
"We are particularly delighted to have attracted award-winning eco-chef and 'Root to Fruit eating' expert Tom Hunt, food writer, campaigner, author of The Natural Cook and ambassador for the Soil Association and Fair Trade Foundation who will be sharing tips on how to get more from your food with less waste during his cookery demonstrations in the marquee on both October 7th and 8th."
Paula McIntyre, Director of Slow Food NI and Slow Food UK Chef Alliance member, said she was also delighted to be involved again in this year's event. "Now more than ever it's vital that we support local farmers, producers and growers.
The Slow Food ethos of 'good, clean and fair' is practised by all the exhibitors – whether it's a local cheese maker, oyster farmer, sourdough pizza maker or charcuterie producer, with a myriad in between, they follow the same principles.
"I'm looking forward to compering and cooking with Brian McDermott, a strong Slow Food supporter and welcoming Tom Hunt, the eco-chef to the festival.
"Tom has restaurants in London and Bristol with a zero waste policy and he's steeped in the farm to fork movement. In a world where mass production and fast food is the norm it's great that people will be able to see how food should be and celebrate our fantastic producers and chefs".
For further information on the Slow Food Festival including details of exhibitors and timetable for cookery demos and talks, musical entertainment and children's activities in Guildhall Square from 12 noon until 6pm on October 7th and 8th, visit www.derrystrabane.com/food
Tags: