SINN Féin MP Elisha McCallion has said that the fight for marriage equality in the North of Ireland goes on.
A marriage rally will be held tomorrow, Saturday, August 19, in Derry's Newmarket Street at 2 pm
The Foyle MP said she was bitterly disappointed at a judgement in Belfast High Court yesterday.
She attended yesterday's hearing with party colleagues Chris Hazzard MP and Carál Ní Chuilín MLA
Elisha McCallion said: "We are obviously disappointed by this decision and we know that the couples involved in this case are looking at grounds for appeal.
"I want to pay tribute to them and offer our continuing best wishes.
"However, people should not have to resort to the courts in order to access rights, which are available across western Europe.
"Equal marriage should have been enacted in the north a long time ago.
"But it has been consistently denied because of the actions of the DUP in particular – in defiance of wider public opinion and a majority in the Assembly.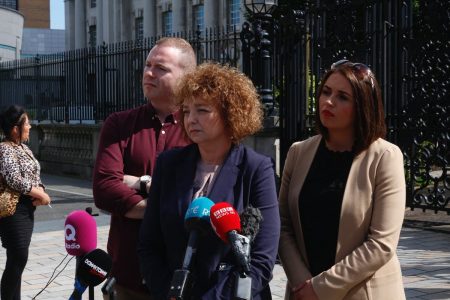 "The ongoing denial of rights by the DUP, with the support of the British government, which are enjoyed by citizens rights across these islands is unacceptable.
"This is an issue which is at the heart of the current political crisis.
"The fight for marriage equality will go on.
"We need to see the implementation of agreements and an end to discrimination if we are to have sustainable political institutions."
Tags: