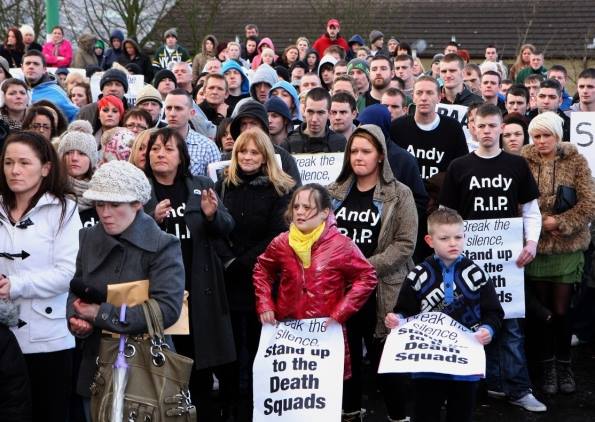 A protest is to take place in Derry's Peace Park on Foyle Street this evening at 5pm.
This follows a paramilitary style shooting in Derry in which a man was made to lie down in an alleyway before being shot four times – three times in the abdomen.
The attack happened in Lisfannon Park in the Bogside area at 9:35 pm on Tuesday night.
The 33-year-old victim was rushed to Altnagelvin after sustaining serious injuries to the legs and abdomen, but his injuries are not believed to be life-threatening.
It is believed that four masked men were involved in carrying out the shooting on Tuesday evening.
RAAD – Not In Our Name are organising the protest, with a spokesperson saying that the level of brutality involved in the shooting stunned the community.
A spokesperson says "There will be a short protest against so-called punishment attacks in Derry's Peace Park, Foyle Street.
"Over the last number of weeks, there has been a huge increase in these attacks culminating in the disgusting shooting of a young man in the Bogside on Tuesday night.
"The level of violence inflicted on the unfortunate victim sent shockwaves through the community – the perpetrators having shot him in both legs and in the stomach.
"There is real anger that such barbarism is carried out by those who claim to have a community mandate.
"This protest gives the community the opportunity to clearly demonstrate that we do not want, support or give any permission to masked thugs to act on our behalf.
"Everyone who opposes vigilantism is welcome. We call on people from across the political spectrum to join us and start building a new movement that consigns these violent actions to the dustbin of history."
Investigating officer Detective Sergeant Phelan said: "The victim was taken to hospital with wounds to his legs and abdomen. His injuries though serious, are not believed to be life threatening at this time.
"We believe four masked men were involved in this brutal and horrific attack and we would ask for the community's help in identifying those individuals.
"Anyone with information can contact detectives on 101 quoting reference number 1346 08/08/17. Alternatively, the Crimestoppers charity can be contacted anonymously on 0800 555 111."
PSNI Foyle say: ""In today's society how can anyone see this as anything else but barbaric? This isn't justice.
"This is not the price our young people should have to pay because cowards in masks believe the have been wronged in some way.
"Tell us. Tell Crimestoppers. Our city and our people deserve better."
Tags: