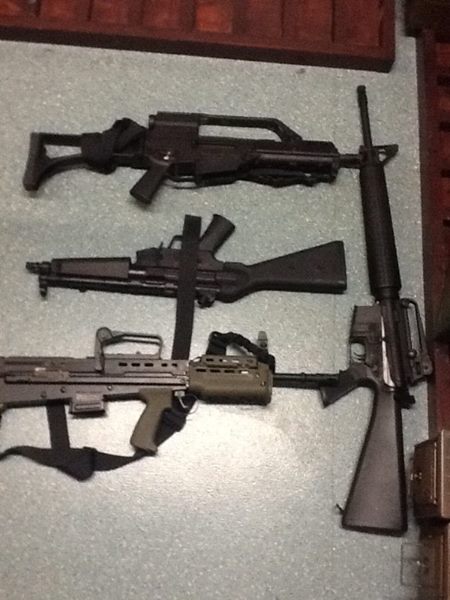 POLICE in Derry are jubilant after taking these weapons of the streets of the city today.
The imitation weapons were located by members of the PSNI Foyle's Waterside Neighbourhood Policing Team (NPT) this morning.
They will now be forensically examined.
As well as seizing the weapons, Waterside NPT also arrested a male who ran off following a suspected theft.
A suspected accomplice in the theft has also been identified say police.
And Waterside NPT also arrested a drunk drive, making the streets of Derry a lot safer for motorists and pedestrians.

PSNI Foyle said on its Facebook page today:
"Can you guess what Waterside NPT have been at this morning before lunchtime?
bonus prize for guessing which one in the picture is actually real!?!?
Answers on a post it note please…
1. Locate and seize 3 x imitation firearms.

2. Catch a young fella running away from us after he was suspected of being involved in a theft
.

3. Identify his accomplice.
4. Assist in the arrest of a drunk driver
.

5. All of the above
*please note there is no actual prize for guessing the right answer but you can make me tea
☕️
Constable F".
Tags: