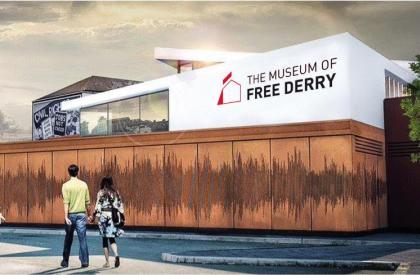 THE Civil Rights era returns to the spotlight next week as the rebuilt Museum of Free Derry opens its doors on today, Monday, February 20.
The £2.4m project – built on the site of an earlier museum of the same name – offers visitors a multi-media exhibition about the civil rights and early Troubles era in Derry.
Museum manager Adrian Kerr said: "We are all thrilled that the new museum is at long last ready to open.
"It has been a long and hard road, but the new building is worth the wait.
"It will allow us to do a lot more work in educating people about this very important era in our history."
Mr Kerr said he was certain the museum would be a hit with tourists and visitors to the city.
"After two years in temporary premises it will be fantastic to have the museum back where it is supposed to be, in the heart of the Bogside, where so much of our story happened."
The artwork on the front wall of the museum was created by local artist Locky Morris.
It is entitled 'We Shall Overcome', in tribute to the famous song which became an anthem for the North of Ireland's civil rights movement.
The Free Derry Museum is in the city's Glenfada Park, and is owned and managed by the Bloody Sunday Trust.
Mr Kerr said he wanted to thank all those who helped make the it possible.
"We would also like to thank the residents of Glenfada Park and the surrounding areas for their patience and support during the building work and all the disruption that it caused, and the many people, including elected representatives, from across the city who have worked hard to help us achieve this," he added.
Tags: