BY TIM HEDGLEY, GROUP TRAVEL EDITOR
CONCEIVED as a saucy seaside stopover the Hotel in Brighton the Pelirocco has become the by-word for those seeking a great getaway laced with a real touch of Rock 'n' Roll.
Brighton is a melting pot of hedonism, seaside culture, the pier, the pavilion, the lanes and of course gay bars and it's been famous for all those things for years. Located only 40 miles from London is a relatively short drive in distance but a long way in time and culture. And right at the centre of all of this is the famous Hotel Pelirocco.
Mick Habeshaw Robinson and Jane Slater founded the hotel in 2000.
It grew from a discontent with hotel experiences on offer at the time.
Stuck between the ostentatious option of the Grand and the faded chintz of the Brighton B&B the Hotel Pelirocco sought to satisfy the middle ground with an outrageous alternative hotel and it was the forerunner of themed hotels around United Kingdom.
Attracting high-profile sponsorship from Sony PlayStation through to Asian Dub foundation, this unique hotel embraced collaboration, working with a range of artists designers and sponsors Stoli vodka Kraken rum Jamie Reid as well as playing homage to icons from both British and International subculture, Betty Paige, Diana Daws, Yoyo Kusama and Lee Scratch Perry.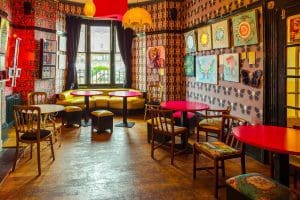 Renowned for its friendly and relaxed customer service, guests and visitors are welcomed back again and again by familiar faces that have been with the Pelirocco team for years.
The Pelirocco has designed all of its rooms to be unique and each year a new one is created, I hear a Japanese love room is nearing completion very soon.
There are a host of unique rooms. The quadrophenia room, rock and roll room, Bowery Room, the Nookie Room and a Star Wars themed offering, in fact too many to list here.
The hotel however does not sit on their laurels, there is a constant demand and occupancy rates are well up in the 80% region as customers return again and again. In fact a couple brought their 15 yr. old daughter, as the Pelirocco was their honeymoon hotel.
But don't think it's just a hotel room as the Pelirocco offers so much more.
They bring on young musical talent, and hold comedy nights and jamming sessions nearly all the time, the bar has a 24-hour licence but mostly it shuts between 3 and 4 am. Breakfast is a welcomed wonderful affair and its fair to say they do get through quite a few full English breakfasts there too.
When you enter the hotel through the hall its looks a bit odd with the walls covered with memorabilia, records, posters, pictures and lots of other advertising artefacts literally all over the walls. But don't be put off the hotel is spotlessly clean and a super place to stay.
Having stayed once, I'm hooked.
Tags: