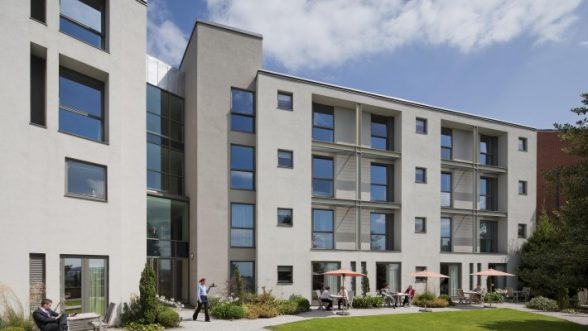 BY TIM HEDGLEY, GROUP TRAVEL EDITOR
Nottingham is located 30 miles (48 km) south of Sheffield and about 3 hours from London. Nottingham is famous for a few things, Sherwood Forrest, Robin Hood and Raleigh bikes. It was granted a city charter in 189 and its population now equals that of Northern Ireland. So last weekend I decided to pop over there to see what this famous city has to offer. I drove from Larne across to Cairnryan on the speedy P&O route, which gets you from shore to shore in just two hours. A few hours later I was arriving into Nottingham.
Hart's Hotel
I stayed at Harts Hotel in the city centre. Harts is  a contemporary 4 star boutique hotel with stunning views over Nottingham from its bedrooms and secluded gardens. Some people may see boutique hotels as minimalist but I can assure you that my experience of Harts was, this was a really stunning and well-equipped hotel. Beautifully furnished and it comes with an award winning restaurant.
Hart's is a busy 80 seater restaurant which has for a number of years claimed the title of Nottingham's most successful up-market eatery. Hart's aims to provide a thoroughly professional blend of skilled service and modern British cooking in a stylish and comfortable interior. Having eaten in Hart's I can advise it is a stunning place to eat where your taste buds will be taken on a journey of delight.
My room was beautifully quiet and housekeeping was immaculate. The views of Nottingham were stunning and if you are looking for a wonderful hotel to stay at do consider Harts http://www.hartsnottingham.co.uk/
Transport
Getting around Nottingham was really east as it boasts an award-winning public transport system, including the largest publicly owned bus network in England. It is also served by the modern Nottingham Express Transit tram system.
This city was also named 'Home of English Sport' as it has the National Ice Centre, Holme Pierrepont National Watersports Centre, and Trent Bridge international cricket ground, which are all based in or around the city.
So if you are sporty you will not be lost for choice.
 Nottingham Is Well Read Too
On 11 December 2015, Nottingham was named a Unesco City of Literature, joining Norwich, Melbourne, Prague and Barcelona as one of only a handful in the world.[15] The title reflects Nottingham's literary heritage, with Lord Byron, DH Lawrence and Alan Sillitoe having links to the city.
Lots to do
My first evening was spent at a £1-00 comedy night at The Canalhouse, Nottingham. (www.thecanalhouse.co.uk).
This is no ordinary English pub. Originally it was a boathouse and if you walk inside you will see exactly what I mean, but ill let you discover the surprise. The Comedy night was £1-00 in and there were 7 comedians on stage, a great night was had and there were lots of laughs. Interesting to note that in this bar they serve Northern Irish measures so you are sure for a great value night. Also the main bar serves some wonderful real ale. Apart from the great venues super prices and amazingly cheap comedy nights there food is super too.
Robin Hood
After my comedy evening it was back to Hart's for some sleep and an early start, as I was to meet Nottingham's real hero. Ezekial Bone, of Nottingham Tours. Just type Nottingham tours into Google and you will find him. This man is a legend in his own lifetime. He makes Professor Stephen Hawkin's appear stupid, for his knowledge is amazing. There is nothing he does not know about Nottingham or its most famous son Robin Hood. In fact some say they are one and the same.
Ezekial, or if you know him well you may call him Ade, will take you on a bespoke walking tour of Nottingham, calling in at the Malt Cross, Ye Olde Trip to Jerusalem, England's oldest pub, which is built into caves beneath Nottingham Castle.
He will walk you down streets that will make your skin crawl or frighten the life out of you for this man is not only a tour guide, he is a "master story teller" and should be nominated as Nottingham's Ambassador.
He promotes Nottingham with a passion rarely seen these days. His life is and has been dedicated to promoting this rich and diverse city. I know travel journalists bang on about doing tours of cities, but folks tour guides are generally local and they can tell you more about the history of their town in an hour than you will ever learn in a year of reading travel guides. After a wonderful tour of Nottingham Robin Hood and I arrived at 'Ye Olde Trip to Jerusalem', England's oldest pub for a swift pint of ale and some fine English fish and chips.
One highlight of the tour was when Ade had stopped in the lace district of the town, he was describing the history of the city in great detail, and from high up in a building, I heard a man shouting down at us. I thought he was going to tell off the guide, in fact so good was Ade's historic account of the town, the gentleman aloft worked for the historical society and told him what a fabulous job he was doing and said he wished there were more people like him.
Now if that's not an accolade nothing is!

Check out www.ezekialbone.com. And remember he is not limited to walking tours of Nottingham; he does a blood and guts tour, a lace tour, a magic lantern tour of Nottingham Theatre Royal, which has been acclaimed as 'A wonderfully theatrical tour!' by Gyles Brandreth. So please consider booking a tour with Ade you will not regret it.
Englands oldest Pub
Ye Olde Trip To Jerusalem is ranked as one of the best pubs to visit in England. Built into the rocks that Nottingham Castle stands on it boasts a wealth of history and enchanting features.
Many people believe the pub is named 'Ye Olde Trip To Jerusalem' because people made a trip to Jerusalem from there. In fact the word "trip" does not mean a journey in this case. An old meaning for 'trip' is a stop on a journey, like being tripped up, so the inn's name means a stop or rest on the way to Jerusalem. So if in Nottingham why not follow in the pilgrims tradition and pop in on your way past the pub for a quick pint or a nibble? The pub is famous for its caves carved out of the soft sandstone rock against which the building is set and its landlord Karl. The larger ground level caverns are now used as the pub's rear drinking rooms. There is also a network of caves beneath the building, originally used as a brewery. They appear to date from around the time of the construction of the castle (1068 AD).
The cursed galleon is a small wooden model of a ship in one the upstairs lounge. It is claimed that people who have cleaned it have all met a mysterious death. Landlords have refused to allow anyone to dust the ship over the years, allowing inches of thick grime to build up on it. The galleon is now encased in glass.
The pub also houses an antique chair; it is claimed that a woman who sits in the chair will increase her chances of becoming pregnant. So many people have sat on the chair in the hope of it bringing them pregnancy that is now is too weak to withstand the huge demand… It is now on display in the upstairs lounge.
Karl the landlord has been nominated as a tourism superstar in a Daily Mirror competition so please give him a few votes from the emerald isle, voting page is: http://www.mirror.co.uk/tourismsuperstar. Voting is live until the end of March.
They do a mean burger
If you are into burgers, I mean real burgers, the American type then head for Annies Burger Shack near the lace district. Born and raised in Rhode Island in New England Annie grew up down the road from where the first ever diners started.
She moved to Nottingham in 1994 and started Annie's Burger Shack in 2009. All I can say is WOW, amazing, there are real American burgers just how you like the. Do not miss this famous and fabulous eating-house. Crammed every night of the week it's a firm favourite with the locals and now I know why.
As Annie says "We are not about fast food, we are for the experience… so enjoy your surroundings, enjoy your time in the historical Lace Market, and its beautiful architecture which, funnily enough, reminds me of home".
Tags: