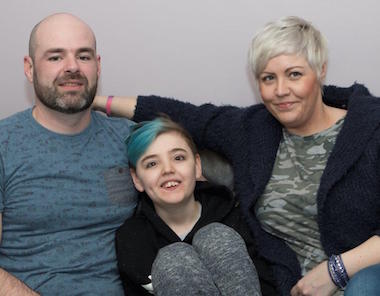 A FATHER who grew cannabis to help improve the life of his critically ill son has said he was prepared to go to jail if it helped his child.
Derry man Chris McDaid was caught by Gardai at a growhouse at a rented house in Carrigans surrounded by up to 100 plants and plant cuttings.
He faced years in jail if found guilty of cultivating the plants.
McDaid pleaded guilty to possession of the plants under the Misuse of Drugs Act and appeared at Letterkenny Circuit Criminal Court.
However, when he gave evidence in the case, he explained to Judge Martin Nolan that he had a very good reason for growing the plants in October, 2015.
The 33 year old revealed how he was growing the plants in order to help improve the quality of life of his son Cian who suffers from Ataxia-Telangiectasia (AT), a rare, neurodegenerative disorder for which there is no cure for.
He suffers from severe tremors and slurred speech, factors which Chris hoped could be helped by using medicinal cannabis.
Judge Martin Nolan listened to the evidence and to Chris' impassioned plea on behalf of his son and said it was obvious that he was not growing the plants for monetary gain.
He did sentence him to a year in prison but suspended the sentence for a year meaning that Chris will not have to spend any time behind bars.
Last night Mr McDaid said he was simply glad his ordeal was over but said he would do it all over again if it helped his son.
He explained how the type of cannabis seed he was cultivating did not lend itself to giving the user a high.
Chris first got the idea to help his son after following the challenges faced by a Canadian family, The Thompsons, online.
Their video blogs showed how medicinal cannabis helped their two children.
Chris, from Foyle Springs in Derry, never told his family what he was planning but set in motion his plans to grow the plants in a rented house just across the border in Carrigans in Co Donegal.
Unknown to Chris, undercover Garda officers were watching his every move.
The father-of-one, who has a degree in marine science, said that although he knew he could be caught, being confronted by armed Gardai was a terrifying experience.
He explained "I knew the risk I was taking and I knew there was always a chance that I would be caught growing the plants and I was.
"Although I knew it I was still shocked when the Gardai did arrive, especially as some of them were heavily armed.
"I was taken to Letterkenny Garda station and I spent three nights there before being taken to Sligo to court.
"I told the Gardai that I was growing it for my son but they didn't want to know. However, the one thing I will say about the Gardai is that they treated me really well when I was in custody," he said.
Chris phoned his mum and partner Lynda and told them what had happened and they were just so relived to hear from him when he had not come home that night.
He appeared in court in Letterkenny last week and thinks he is somewhat lucky that he appeared before a Judge who allowed him to explain his situation.
"I think he looked at it reasonably and realised that I was being genuine," said Chris.
He added that although he was prepared to go to jail for his son, he was glad that he wasn't going to be separated from him.
"I was prepared to lay my life down for Cian and I was prepared to go to jail. I was just glad that I wasn't going to go to jail and be separated from him," he added.
Chris said he is now leaving his arrest behind him but is realistic that Cian's quality of life will continue to diminish.
During his court case, it was revealed how the maximum lifespan for sufferers of AT is 25, but for Cian, it is likely to be closer to 18. However, the latest medical review showed he was "probably looking at less than that".
Chris said he is hopeful that the Minister for Health, Simon Harris, is continuing to examine the benefits of cannabis for medicinal use.
As he lives just across the border, Chris said he could well be moving to Donegal if the Government ever acted on current legislation which outlaws all cannabis.
"On a serious note I would love if the day came when the Government did look at individual cases and to examine the benefits which cannaboids bring to improve the quality of the lives of so many people.
"I'm just hoping that Cian can benefit from them that day," he said.
Tags: