BY TIM HEDGLEY, GROUP TRAVEL EDITOR
LIKE so many Irish people who visit France, none of us can be immune from the horrific events in Nice last week.
Having spent a month in this wonderful country recently I thought long and hard whether to postpone these next few articles on one of the most popular holidays the Irish take in France. I decided however that the French need our support at this time and that we should support our friends in time of need.
Camping in France is big business and there are many sites dotted across the country. Accommodation can vary between mobile homes, tents, luxury safari tents, caravans and luxury pitches with their own toilet facilities.
The services and facilities offered at sites can vary wildly so it's important to know what your going to get before you set off.
Les Castles have 39 sites over France and 30 of them are 5 star rated, and if like me you have been a camper or caravaner, the quality of sites varies enormously.
My second campsite on my French Sojourn, was down near Carnac.
Carnac is famous for their rows of standing megalithic stones. The standing stones of Carnac are one of Brittany's greatest attractions. Three fields – Ménec, Kermario and Kerlescan – contain around 3,000 aligned megaliths, which date from 4000 BC.
The granite stones were erected on the spot where they were dug, hence the differing sizes, although it is not known why they were put up; it is thought they had a religious or cultural significance.
Located opposite the renowned Megalithic site is Les Castel Camping's La Grande Metairie, once a traditional Brittany farm, this wonderful campsite offers you a superb 5-star experience, which extends over 15 hectares of greenery.
Jam packed with things to do this is a wonderful site for children. The Michelin Camping Guide, selected 6 exceptional campsites in France. And this site is one of them, having received the highest award of "5 red tents".
It's all about Children
If the children are having fun then it makes for a much better holiday for the parents and the activities on this site are endless. Segway tours, zip wire adventures, high level tree walks, aquatic park, petting zoo are just some of the activities available.
French holidays are nearly all about the water, it maybe a lake, water park or villa pool, but its what the children generally want and at La Grande Metairie they go all out to make sure the kids have fun.
This site boasts a truly fantastic pool complex, sliding down the toboggans, swimming the lazy river, passing under the waterfall, relaxing in the jacuzzi, splashing around with the toddlers in the padding pool or doing gentle lengths in the swimming pool. You can just enjoy the waterpark as you wish.
And whatever the Brittany's weather may throw at you there's always the heated indoor pool with it's own Jacuzzi!
Bordering the different pools you will find plenty of space to relax on a sun-lounger and soak in the sun. Blue-Lagoon bar and terrace is just a "splash" away for a refreshing drink or ice-cream.
Many of the visitors to La Grande Metairie stayed in mobile homes, but there are of course other options available such as caravans, wooden camping pods and tree top cabins. The Squirrel's and the Birds' Cabin.
Situated about 4 meters above ground, (children must be over 2 yrs. old ) each cabin is built with two bedrooms, and an open terrace.  Soft beds (for 4 people in one bedroom, and for 3 people in the other), several chairs and tables, you can leave your car in the area provided, and you will be just a few meters away from the toilet blocks.
I brought my own caravan with me so I had a pitch with water, electric, and an outside fridge, which was extremely useful. I also had a patio set as well. My site was spacious and located close to the shower block and on site store.
Those in mobile homes have en suite toilet facilities and many caravans do, to but when on a campsite the most important building is the sanitary block.
Such buildings can make or break a campsite and I can tell you that in La Grande Metairie, they know this and provide exceptional facilities.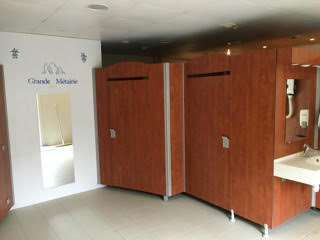 In fact they are hotel class.
Spotlessly clean at any time of the day, there are piping hot showers, family showers, hair driers, laundry and ironing facilities which were all amazingly clean. Over all La Grande Metairie, is an exceptional site it has everything you need and more for a fun packed family holiday and you literally do not need to leave the site if you don't want to. If you do decide to go sightseeing then there is lots to see and do as Brittany has so much to offer. With prices as little as €9-00 per day for a pitch its great value too.
Le Manoir de Ker An Poul
After three days of fun I then headed further south to try out Le Manoir de Ker An Poul near Sarzeau.
This was a 4 star Les Castel site about an hour and a half further down the Brittany coast and situated about 800m from the beach. Covering three quarters of the Rhuys Peninsula, Sarzeau is lined with fine sandy beaches. You can also enjoy the charm of the Damgan seaside resort and the picturesque town of Arzon.
My accommodation this time was a charming little chalet in the style of what the French call a Gypsy Caravan.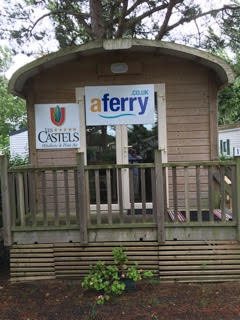 This chalet had all the facilities one would require for a comfortable stay on the Brittany Coast.  Two bedrooms and a living area, gas cooker, fridge coffee machine shower and toilet, outside eating tables and chairs BBQ and parasol these chalets are the ideal themed holiday chalet.
Le Manoir de Ker An Poul is a beautiful little site with about 300 pitches covering Caravans, mobile homes and tents. The Manoir de Ker An Poul is a typical Breton architecture. It was probably built around the fifteenth century, although it is difficult to make a precise dating of the building. The building adjacent to the tower entrance was probably built around the same time and has often been altered over the centuries.
Little is known about the use of the building but the house belonged to belonged to De Francheville and CILLART families (called "Kerampoul"). It is now owned by the Marquis de Gouvello Keriaval. The building has been listed as a historical monument since 1968.
The campsite offers mobile homes of 2 and 3 bedrooms and it boasts a large fully heated water park with an indoor pool, an outdoor pool and a third pool with three slides. The campground also offers many activities such as bowls tournaments, sports tournaments on the sports ground, water aerobics, water polo. And for the evening, musical entertainment, theme nights, karaoke … are offered in high season!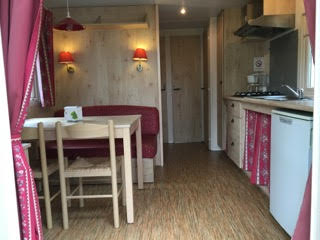 This is a slightly more grown up campsite than the one above but no less amazing.
Situated amongst pine trees is it close to a superb windsurfing center just 800m away.
The little village a few feet away offers a great pizzeria and local bar and tabac.
Facilities again were superb and this is a must visit site if you want to feel the breeze and see the ocean.
Travelling to France I used Aferry.co.uk
Finding a cheap ferry has never been easier. With AFerry.co.uk you have access to the largest selection of ferries in Europe and beyond.
AFerry.co.uk is proud to be the winner of "The World's Leading Ferry Website" award at the World Travel Awards four years running.
Tags: