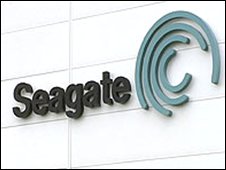 SEAGATE technologies is to make more job cuts across its global business.
But it is not yet known how many jobs will be lost at its plant in Derry where it manufactures hard drive storage devices.
In May, Seagate said 70 jobs would go in Derry as it reduced its overall workforce by around 3%.
Now the firm says it aims to cut 14% of its global workforce by the end of 2017.
Liam Gallagher, from the Unite union, said that the news is deeply worrying.
He said that any more job losses would have a major impact on the manufacturing industry.
Seagate currently has about 1,400 staff in Derry, making it one of the north west's largest employers.
In recent years, the market for hard disc drives (HDD) has seen increased competition from the faster more efficient solid state drives (SSD).
Mobile devices, the biggest growth sector in hardware, use SSD rather than hard drives.
Seagate currently manufactures both, but its share in the SSD market is much lower than its competitors.
The firm's chief executive Steve Luczo stressed there is still a need for the company's technology.
He said: "HDD devices are where most data bits ultimately reside."
Tags: