OVER 250 families, friends and colleagues paired up tonight (Wednesday 22ndJune) for the Centra Run Together event at the Quay Walkway, Derry, raising vital funds for local charity Action Cancer.
Run Together is a set of four 5k races taking place across Derry, Belfast and Mid Ulster between June and October which encourage you to run with your partner, son, daughter, friend or neighbour, while raising money and awareness for Action Cancer.
Leading convenience retailer Centra developed the new series of fun runs to feed the recent upsurge in 'social runners' in Northern Ireland whilst raising funds for Action Cancer.
The event saw more than 125 pairs make their way along the Quay Walkway, across the Peace Bridge and into St Columb's Park before crossing the finish line to receive a bespoke medal, T-shirt and goody bag.
Event organiser, Johnny Davis,from Pioneer Group said: "We've had a fantastic turnout for our first Centra Run Together pairs event in Derry~Londonderry.  The series of runs are one of a kind in Northern Ireland and it's great to see everyone from regular club runners and ParkRunners to those who are new to running taking part and having fun. 
 "We're looking forward to continuing our pairs series around Northern Ireland so make sure you pair up and sign up for our next events in Mid Ulster in September and Belfast in October," he added.
Centra Derry Trench Road store owner, David Kelly said: "Centra Run Together was a great success in Derrywith family and friends pairing up to motivate and support each other around the course whilst helping raise funds for Action Cancer.
 "It was a fun and novel way to motivate you and your running buddy to get fit and was great to see so many people from Derry and the wider community get involved," he added.
Gillian Thomson, Corporate Fundraising Officer for charity partner Action Cancer said: "We're delighted to be involved in the Centra Run Together 5k series. The teamwork spirit created a great atmosphere at the event with such a variety of people taking part, whether it was just for fun or part of a training regime. 
"Cancer touches so many people from all walks of life and all profits and sponsorship money from this event will go towards helping families throughout Northern Ireland by delivering life-saving services right to their doorstep,"she added.
For further information and to keep up to date on the next Run Together events visitwww.centra.co.uk/runtogetheror www.facebook.com/CentraNI
Centra is a leading convenience brand in Northern Ireland for retailers who want a convenient range of fresh, local products. Core to the Centra philosophy is building vibrant communities.
Centra stores throughout the province are owned and managed by independent retailers who are committed to supporting towns and villages in which they live and operate.
This is why, every year, we sell in excess of £96 million worth of products from Northern Ireland in our stores.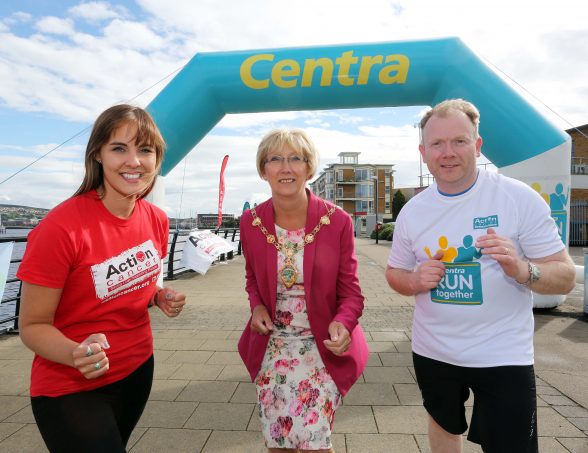 Tags: