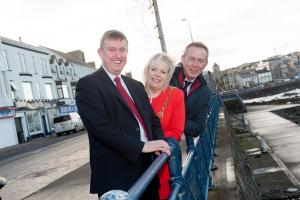 SOCIAL Development Minister Mervyn Storey MLA has announced funding of £1.5 million to regenerate Portstewart's promenade in Co Derry.
The joint initiative will include £750,000 from the Department for Social Development (DSD), with Causeway Coast and Glens Borough Council providing equal funding of £750,000.
The regeneration work will commence at the end of the month and includes:
replacement of the existing footways with a new high quality concrete aggregate and granite pavers
improved street lighting that will complement the marine environment of the area
the installation of stainless steel railings along the entire length of the seafront side of the promenade, and
high quality street furniture
Minister Storey said: "This £1.5million Public Realm Scheme is great news for the town of Portstewart and will provide a much needed face-lift to one of Northern Ireland's favourite sea-side resorts.
"The improvement works will significantly enhance the look and feel of the town and will stretch from one end of the promenade to the other, including the shop side of town."
Contractors, GEDA Construction, have been appointed to deliver the Public Realm Scheme which will see a significant improvement to the town.
The Minister added: "I am pleased that this Public Realm Scheme for Portstewart will be getting underway within the next few weeks and that GEDA Construction have been appointed to deliver these improvements.
"Public Realm Schemes have created a more attractive environment for a number of towns throughout Northern Ireland and these have helped improve the vitality of the area. I know that those who live, work and represent Portstewart are giving their full support to this Scheme."
The Mayor of Causeway Coast and Glens Borough Council, Councillor Michelle Knight-McQuillan said: "The funding of £1.5million for a Public Realm Scheme to improve one of our most popular towns in the Borough is significant for Portstewart.
"The opportunity to work in partnership with central government will enable Council to deliver a project which will enhance our local area.
"The funding through this scheme is set to create a safer and even more attractive environment for both visitors, locals and nearby residents of the area.
"This will contribute greatly to the attraction and charm of the North Coast for all."
Tags: