BUSINESS: Donegal entrepreneurs, JP and Mark McCloskey, who are well-known brothers from Letterkenny, opened the doors of their second men's fashion store this week on Foyle Street in Derry, bringing a new and exciting facelift to men's fashion in Derry.
JP and Mark have seen their dreams realised with the opening of their flagship store in 2008, located in Letterkenny's busy retail park.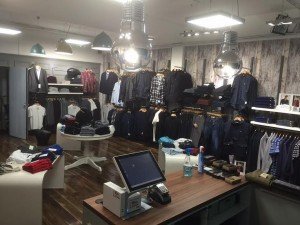 Both stores house top brands such as Farah Vintage, Fred Perry, Toms, Lyle & Scott, Selected, Jack & Jones, Lloyd & Pryce footwear, Goodwin Smith, Vans and many more.
With seven years under their belt in Letterkenny working with customers to ensure they are getting the best in service, fashion, quality and price, the time was right for a new challenge to expand.
JP told Donegal Daily, "It was an opportunity which presented itself once again for us, and after weighing up the pro's and con's, we decided to go for it.
"We are very fortunate to have strong customer base from Northern Ireland and we hope we can build on these relationships with the opening of our new Derry store."
Delivering the absolute best in customer service is really important to JP & Mark and knowing that their team in Letterkenny and Derry can deliver this is what sets Evolve apart from competitors.
Mark McCloskey added, "Derry is a great city, we have always enjoyed coming here, there is just something about it that's special and we are looking forward to getting to know more of our customers from Derry and all around Northern Ireland."
"You can be assured of top quality service with that all important personal touch when you shop at Evolve Menswear.
Evolve Menswear Derry is open SIX days a week with opening hours Monday, Tuesday, Wednesday 9am-6pm; Thursday and Friday 9am-7pm; Saturday 9am-6pm.
Tags: