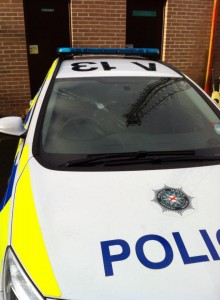 A woman in her 80s has been left badly shocked after wedding ring taken was pulled from her finger during an aggravated burglary at her home in Co Derry.
Police say four men entered her house on Queen's Avenue in Magherafelt around 7.30 pm.
Two men ransacked her home while the other two remained with her in her bedroom. They left with her wedding ring and other items of jewellery.
Det Sgt David Halliwell said the burglary had been "loathsome".
"Any crime in which older people are the victims is despicable but taking a treasured wedding band from the hand of an elderly lady is a particularly loathsome act," he said.
"We believe the males involved in this incident were aged in their late teens and were wearing knitted hats with scarves around their faces."
Police have appealed for anyone with information to contact them on the 101 non-emergency number.
Tags: