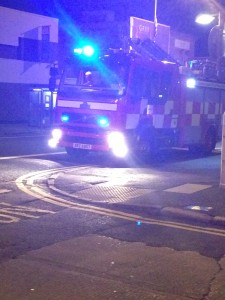 AN investigation has been launched into a blaze which killed 32 sows and 400 piglets.
The major fire broke out at a pig farm near Strabane, Co Tyrone earlier this morning.
According to the Fire and Rescue Service, 32 firefighters are tackling the blaze on the Melmount Road.
They were alerted to the fire around 5.40 am following a 999 call.
Fire crews managed to rescue a number of animals from the blaze.
A total of two farm buildings housing the sows and piglets were completely gutted in the incident.
The cause of the fire has not yet been determined.
Area group fire commander Max Joyce said the fire was well alight when his crews arrived on the scene.
"We had six appliances at the scene.
"When we arrived we found two of the houses with pigs inside alight. We managed to save five of the houses.
"This is a very serious incident but crews reacted quickly.
"There is no idea of the cause at this stage.
"It's unfortunate and you really feel for the farmer this morning.
"It's likely we will be there for another few hours."
Tags: