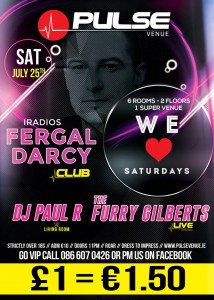 ENTERTAINMENT: IRADIO DJ Fergal Darcy will appear at the Pulse Venue this Saturday night.
Darcy is one of Ireland's most popular disc jockeys and has came to national attention with his popular show on Ireland's fastest growing radio station IRADIO.
A massive crowd is expected to descend on the popular Letterkenny clubbing venue to listen to Darcy play the best current tunes in the chart.
That's not the only entertainment on offer at Pulse Venue with 'The Furry Gilberts' and DJ Paul R also rocking the venue in their respective areas.
Book now to get your own VIP booth and enjoy the night in luxury at Letterkenny's No.1 nightclub.
To find out more check out the Pulse Venue's Facebook page for details on drink promotions.
#PULSEVENUE #FERGALDARCY #IRADIO
Tags: