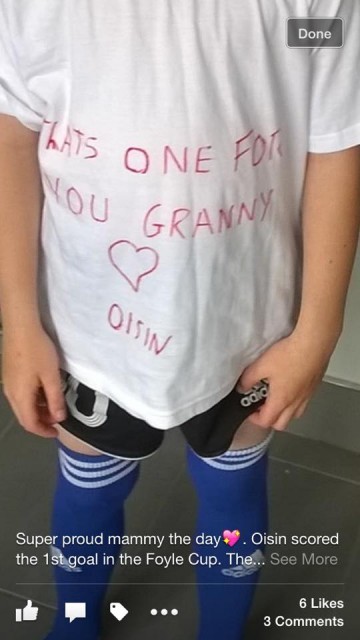 A nine-year old soccer starlet has revealed a touching message to his recently deceased granny during his match at the Foyle Cup.
The little underage star wasted no time in revealing the special tribute scoring after just THIRTEEN seconds of the game yesterday morning.
After expertly dispatching his effort past the goalkeeper, the player ran over to the supporters on the sideline and lifted his shirt over his head.
The celebration was met with laughter by the watching crowd but it was clear little Oisin had something written on the t-shirt he was wearing underneath.
As you can see from the image above posted online by his mother that the goal was for his granny who had sadly passed away recently.
The shirt read, "That's one for you Granny, Love Oisin.
The touching tribute has gone viral since the video of his goal and celebration was uploaded onto the Foyle Cup Facebook page.
It has been shared by hundreds of readers with many leaving comments congratulating Oisin on his goal and his superb tribute to his Granny.
We're sure she is very proud of you Oisin.
To view the video click on the link below.
https://www.facebook.com/foylecupfootball?fref=nf
Tags: