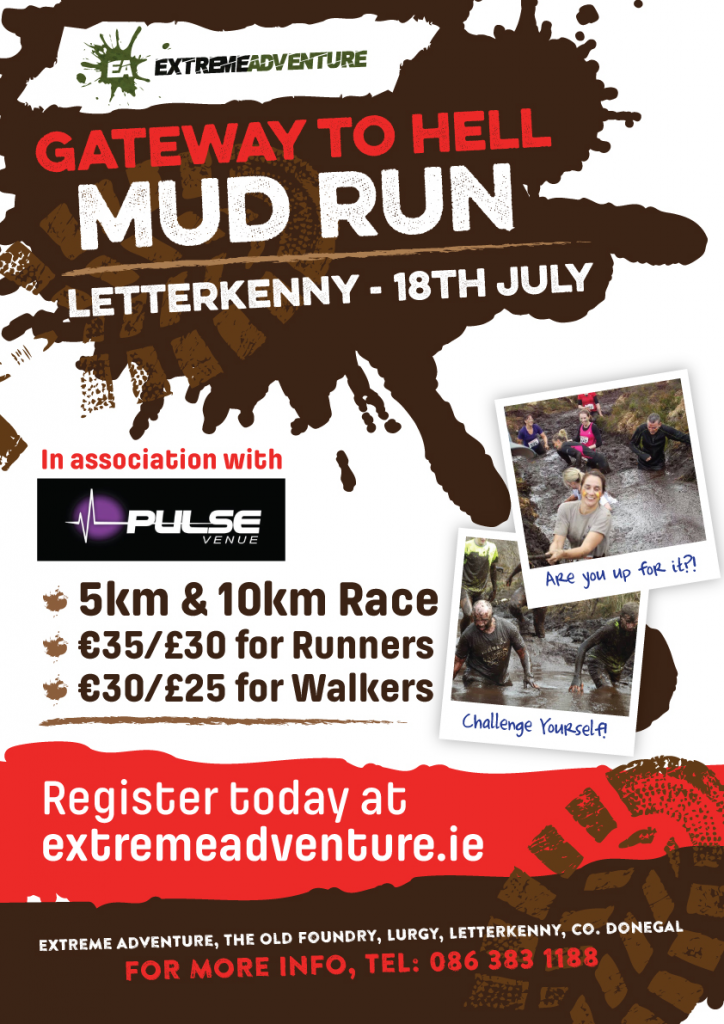 There is only one week left to register for the craziest thing you will do this summer. Extreme Adventure in Letterkenny are getting things all tied up (including bales) for the Gateway to Hell Mud Run next Saturday July 18th.
The Old Foundry in Letterkenny (formerly Letterkenny Paintball) will be the venue for a morning filled with mud and water, obstacles and barriers and more importantly fun and exercise.
Offering both a 5k and 10k course for those who dare sign up to get waist-deep for parts of the day.
Entrants can take things at their own pace should they wish and if not, there will be a time clock in operation for those looking to keep a record or have competition among their group.
Whether you want to run or walk your given course, that's up to you! Either way, be prepared for some sliding, slipping, slumping, skipping and sludging.
Successfully complete the 'Gateway to Hell' Mud Run Challenge and you will have rightly earned the right to wear your very own t-shirt.
All entrants will receive their free event t-shirt at the event.
The event is open to clubs and charities to raise money and you can simply ask for a sponsor card from Extreme Adventure and get sponsored to complete the event.
The event will kicks off at 10am on Saturday morning for the 10km run and at 11am for the 5km run.
Participants are asked to be at the venue 45 minutes before they are due to start and there will be car parking facilities available
You can register up until the day of the event but people are asked to register prior to the event either online at http://www.extremeadventure.ie/gateway-to-hell/ or next Friday the 17th July you can call out to Extreme Adventure (formerly Letterkenny Paintball) Lurgy Letterkenny Co Donegal between 4pm and 8pm
The best thing about this great event is that after there will be a BBQ at The Orchard Bar in Letterkenny complete with a FREE drink to quench that thirst and that's not all. Each of those who participate will also get FREE entry to The Pulse that night.
Get booking and do something different this summer and make it a memorable one.
For more information contact Gerard on 0863831188 and he will be glad to help.
Tags: