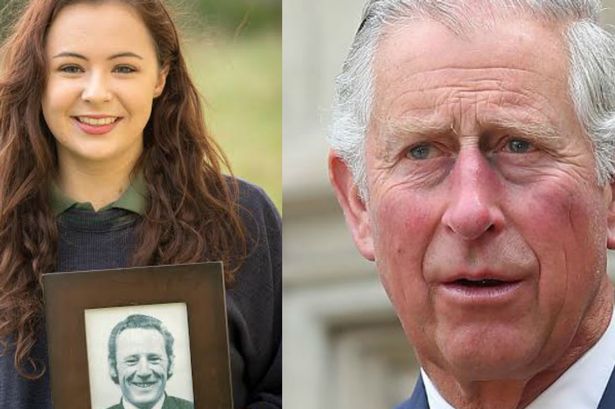 THE grand-daughter of a man murdered by British paratroopers on Bloody Sunday is to sing for Prince Charles in Sligo on Wednesday.
Gerard McKinney was 35 when he died on January 30, 1972.
His daughter Mairead was just 18 months old and later left Derry and married  Sligo man Gerard McLoughlin.
Their daughter Bethany, who is now 17, was picked to sing in an ecumenical choir for a service at Drumcliffe Parish Church in Co Sligo during the royal visit to the South.
But no-one had any idea of the connection; her granda was killed by parachute regiment troops – the same regiment of which Charles is commander in chief.
Gerard McKinney's widow Ita – Bethany's granny – has given her blessing to the event.
"I believe this was brought about by God," said Bethany's mum Mairead.
"Prince Charles lost his grand uncle in 1979 and I lost my dad in 1972. We have to forgive and move on; there is no other way to do this.
"I didn't know my father. I grieved for him much later. But there is no sense in having any bitterness. We have to learn to live with the past but leave it there and look to the future."
Bethany said: "I know all about my granda. I am looking forward to singing the hymns at the service – and remembering him and remembering everyone who died in the Troubles. We must learn to live together."
The visit of Charles has been criticised by some relatives of people who died in parachute regiment atrocities in Derry and Belfast.
Fianna Fail senator Marc MacSharry, a friend of the McLoughlins in Sligo, said:"It is indeed ironic that a young girl, Bethany Mc Loughlin is a choir member set to entertain the Royal visitors.
"She is proudly doing so as the Grand daughter of the murdered grandfather she never new. Charles lost his grand uncle to the troubles at Mullaghmore and Bethany lost her Grandad to the Paras in Derry.
"It's incredible stuff now one happily set to entertain the other it really is an incredible testament to how far as a nation we have travelled in acknowledging the troubles of the past but unequivocally choosing to move forward without prejudice or any other baggage.
"Bethany' father Gerard Mc Loughlin in sharing this story said their family would love if this unusual and coincidental  meeting could highlight that they have no bitterness, no baggage and no animosity.
"That is a powerful message for anyone who cares to reflect on the conflict of Britain and Ireland's past and most importantly that it is – in the past."
Tags: