SDLP MLA Colum Eastwood Derry has the potential to become one of Europe's top cruise ship stopovers, SDLP MLA Colum Eastwood has said.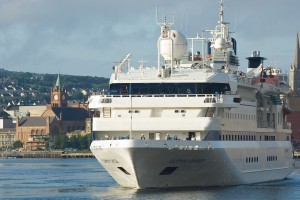 A surge in the growth of the industry in Derry in recent years has proven that the Foyle area has huge potential as a cruise destination, he said.
The Foyle MLA made comment after it was announced that an estimated 12,000 cruise ship passengers are expected to arrive in the Foyle this summer.
Mr Eastwood commended the hard work carried out by local agencies in successfully promoting the region to cruise lines.
"The first of a fleet of cruise ships due to dock in Derry this year has arrived at Lisahally to get the Foyle cruise season off and running.
"With some 12,000 passengers expected to disembark at Greencastle, Lisahally and Meadowbank during 2015 the industry has shown tremendous growth down to the hard work of agencies such as Visit Derry, Foyle Port, the local council and the Loughs Agency.
"Cruise passengers are expected to generate £800,000 for the local economy this year and with ten more liners already booked for the Foyle in 2016 it seems the popularity of the region as a stopover is continuing to blossom.
"The success in targeting cruise lines to choose our city shows the great potential that exists to grow the industry.
"Derry is the obvious stopover for cruise visitors to take best advantage of the great tourism offering in the North West of Ireland.
"A lot of work has gone into telling the world what we have to offer and with a continued focus I believe we can make Derry a favourite European cruise destination."
Tags: