An investigation has been launched after a gang of yobs attacked the Dundalk FC coach as it left the Brandywell following last night's game.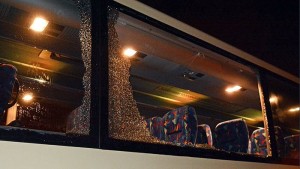 Dundalk defeated Derry City 1-0 in a comfortable win for Stephen Kenny's league champions.
However, the game was marred following the unsavoury incidents that took place after the game.
Derry City supporters have moved swiftly to condemn the thugs and said the gang responsible for the attack aren't even fans and weren't even at the game.
It's believed the gang are from a neighbouring estate and the PSNI have launched an investigation.
As the coach departed the stadium the gang pelted the bus with stones which shattered a number of windows.
Tags: