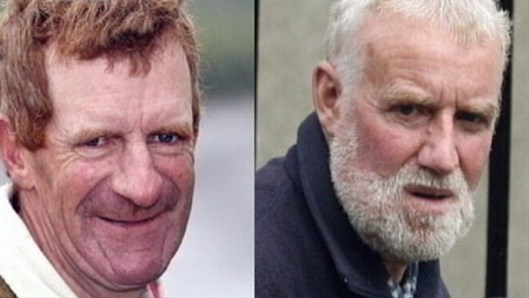 JUSTICE Minister David Ford is under fire after brothers behind a 30-year reign of terrifying sexual abuse of children were set up in a house beside a Derry school.
James and Owen Roe McDermott, pictured, were two of four brothers who raped dozens of boys in Donagh, Co Fermanagh.
They were found to be living close to Oakgrove Integrated College by the Sunday Life newspaper.
MLA Maurice Morrow is demanding answers from Justice Minister David Ford as to who made the decision to house the McDermotts next to Oakgrove.
In a written question to the Assembly he has asked:
– What agencies are involved in the management of the McDermotts?
– Who risk assessed their new residence and classed it as suitable?
– Is it normal practice for serial paedophiles to be housed close to a school?
– Will Mr Ford order a review into the management and structures of decision making in the case?
Lord Morrow last night vowed to take the McDermott case to the floor of the Assembly, describing it as an "appalling error of judgement" which he challenged the Justice Minister to explain.
The DUP peer said: "This is a deplorable and totally unacceptable situation. Placing convicted sex offenders close to a school is most definitely in breach of human rights and the rights of the child.
"The agencies in charge of this matter have many questions to answer, and responsibility lies entirely with them.
"Children and young people are vulnerable due to their age, and the risks of placing predatory sex offenders in the vicinity of their school is outrageous."
James, 63, and 55-year-old Owen Roe McDermott walked free from court in 2010 after they were deemed mentally unfit to stand trial on 19 counts of sex abuse on children.
Their oldest brother Peter Paul McDermott, 62, hanged himself the day after he appeared in the dock on multiple paedophile charges.
A fourth brother John McDermott, 65, was caged for 10 years for abusing nine children.
The McDermotts are estimated to have sexually assaulted as many as 50 children in Donagh in attacks that spanned five decades from 1969 until 2002.
After their court case ended, James and Owen Roe McDermott were moved to Lakeview Hospital in Derry as voluntary patients.
They were then transferred to their current home in the city, which was specially adapted for them by the Western Trust. A Trust spokeswoman said it could not comment on individual cases.
Oakgrove Integrated College principal Jill Markham insisted the safety of pupils was her top priority.
She told Sunday Life: "I have liaised closely with the PSNI and Western Trust on this matter and have done everything in my power to ensure that others prioritise student safety."
Michael Connolly, a survivor of abuse by the McDermott brothers warned: "Believe me, if they get a chance to get their hands on any child who strays into their path, they'll take it."
Two inquiries were set up by the Department of Justice and Department of Health to examine how the courts and social services handled the original McDermott case which resulted in a series of recommendations.
In his judgement in 2010 Judge David McFarland said Donagh was a village with an appalling secret where the children bore the brunt of the tidal wave of abuse.
The abuse was frequent, regular and persistent and lasted more than 30 years.
Tags: