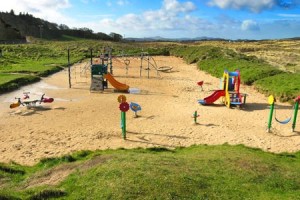 MORE THAN £3M is to be spent on four new play parks in Derry.
The project plans four new play facilities to be located at Ballymagroarty Play Park, Kilfennan Valley Park, Ballyarnett Country Park and Daisyfield.
The facilities will be funded with £2.8million from the northern Executive's Social Investment Fund and £300,000 from Derry City Council.
Speaking at the site of the proposed play facility at Kilfennan, Junior Minister Jonathan Bell said: "These new play parks are an exciting local community led initiative and represents a major investment of £3.1million across both communities within Londonderry. Through initiatives such as this, the Social Investment Fund is being used in areas of most need to invest in projects that will make a real and tangible difference for the better."
Junior Minister Jennifer McCann added: "Play is an essential part of a child's life; it's vital for their social, emotional, physical and cognitive growth. These four new play facilities across the city will provide safe, fun and stimulating environments which will hugely benefit local children in many ways. "
The four play facilities are on land owned by Derry City Council and the Council will be responsible for the upkeep and maintenance of the facilities.
Mayor Cllr Brenda Stevenson said as part of Council's Parks Development Programme this investment is significant and a major boost to the local communities across the city who will benefit greatly from new play provision.
She said: "This is another example of government agencies and community organisations working collectively to successfully deliver projects that will make a real and lasting difference to the lives of many. These new facilities will help promote social interaction and physical activity for children and young people across the city and region."
The new play facilities are a community led initiative. The Derry / Londonderry Social Investment Fund Steering Group Chairperson Noel McCartney said: "The development of four state of the art play facilities in our most deprived neighbourhoods will ensure that our children and families have access to the type of facilities that children need and deserve."
Tags: