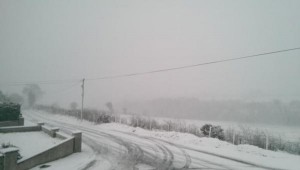 TRAVEL ALERT: Motorists are being advised of dangerous driving conditions across Derry today after temperatures dropped to -4c overnight.
Roads and footpaths are dangerous in many areas including across Derry City, Ardmore, Tamnaherin, Claudy, Park, Eglinton, Drumsurn and Limavady.
Heavy overnight show in some areas has again left roads impassable in many areas.
Transport NI says it has gritted main routes – with drivers out through the night.
But many routes are still in a poor condition. The Glenshane Pass is particularly bad as snow has frozen solid.
However we had better get used to it – the cold spell could last for another week, say most forecasters.
Tonight will be the coldest in almost a year, with temperatures in rural areas dropping to -6C.
Charities are asking people to check on elderly and vulnerable neighbours.
Stay safe.
http://bcove.me/fylcf9px
Tags: