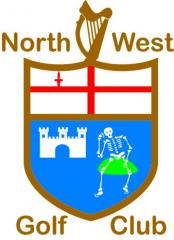 Neil Harkin was best of the bunch with a topsy-turvy score of 39 points to win yesterday's Christmas Fayre competition at North West Golf Club.
Neil blanked three holes but also scored eight points over two holes to relegate Manus Harley into second place on a countback
Full Result
1st Neil Harkin (16) 39 pts
2nd Manus Harley (16) 39 pts
Terry Meenan secured his Christmas turkey and ham with a splendid win in Saturday's Christmas Fayre competition.
After three holes, Terry had only scored three points but birdies at the fourth, fifth and 10th equated to a blistering one under par gross for the next 15 holes and a winning score of 41 points.
In second place, also on 41 points, was 14 handicapper Declan Rennick.
Full Result
1st Terry Meenan (8) 41 pts
2nd Declan Rennick (14) 41 pts
Tags: