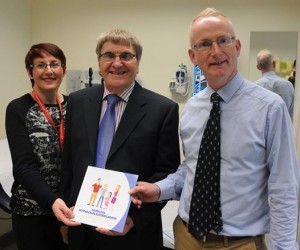 The Western Health Trust, in partnership with the Public Health Agency (PHA), has launched a new service to identify people at risk from a symptomless genetic disorder that increases a person's chance of early heart disease and premature death.
About one in 500 people has Familial Hypercholesterolaemia (FH), an inherited condition that means their cholesterol levels are higher than normal from birth.
The service has been developed and funded through a partnership between Health and Social Care and Northern Ireland Chest Heart and Stroke (NICHS) and is expected to prevent around 170 cardiovascular deaths.
Familial Hypercholesterolaemia is caused by an abnormal gene and, despite it putting people at high risk of early heart disease, most of them don't even know they have it. If left untreated, around 50% of males will develop heart disease by age 50 and approximately 30% of women by age 60.
Charles Logue, from Co. Derry, has witnessed at first hand the devastating effect of the condition.
He was diagnosed as having FH in the 1960s. A sister and two brothers were diagnosed at the same time but have since died in their 30s and 40s from heart attacks/strokes.
Charles now takes a daily tablet for his cholesterol and as well as attending the Lipid Clinic at Altnagelvin Hospital once a year to have his cholesterol checked and the treatment adjusted to keep it under control.
He said: "The modern treatments are easy to take and very effective in lowering my cholesterol to a normal level.
"All my wider family members have been checked for the condition including my own children.
"Because of family testing, the condition can be detected and treated earlier and this means that the younger members and future generations of our family should not suffer from devastating heart disease the way my own brothers and sister did.
"The condition can be treated very effectively if caught early. I would definitely encourage anyone invited for FH family testing to have the test done.
"Without doubt my life span has been immeasurably increased due to early detection and effective treatment."
FH Lead in the Western Trust, Dr Maurice O'Kane, Consultant Chemical Pathologist /Director for Research and Development said Northern Ireland was one of the few countries that have an organised system for identifying people with Familial Hypercholesterolaemia.
He said the aim was to identify everyone with the genetic disorder so that they could get the advice and treatment they needed to prevent the early development of cardiovascular disease and premature death.
He added: "Diagnosis of FH is crucial to the patient's family too. Any child of an FH sufferer has a 50% chance of inheriting the disease.
"Once one family member is identified as having it, on average another five will be diagnosed as well.
"This regional service will be delivered locally in the Western area and has been developed to actively identify all known cases of FH and offer family follow-up testing to their immediate family members.
"The development of this new service should result in an additional 1,000 people with FH being diagnosed and treated over the first four years of the programme. This should prevent around 170 cardiovascular deaths."
Tags: