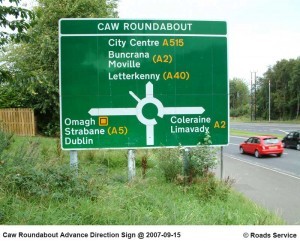 SDLP Foyle MP Mark Durkan and the party's Waterside Councillor Martin Reilly have welcomed correspondence from Transport NI confirming that they have secured additional design funding to carry out a feasibility study on the Caw Roundabout in Derry.
Concerns have been expressed about safety at the roundabout following more than 50 casualties over the last three years with and local residents calling for the installation of traffic lights to be erected.
Mr Durkan said the feasibility study would take place within the current financial year and would identify and analyse options to improve the efficiency of the Caw Roundabout.
He added: "Many road users have voiced their concerns about safety at this location and local residents have been calling for the installation of traffic lights similar to those at the Culmore Roundabout on the other side of the Foyle Bridge.
"I am therefore pleased to see that Transport NI has responded to our repeated representations – and have indicated that possible solutions could involve dedicated left slips and signalisation."
Cllr Reilly said: "I have written again to Transport NI seeking further information on this feasibility study.
"While it is sensible that they are seeking to engage with the proposed developer at this site it is imperative that Transport NI see this location as needing attention – given their own proposed improvements such as bringing the new A6 route to the adjacent Gransha Roundabout.
"Everything points to the number of vehicles using the Caw Roundabout increasing in the future – and many people query why the traffic management system at one end of the Foyle Bridge isn't replicated on the other side."
Cllr Reilly concluded: "The SDLP will continue to keep the pressure on Transport NI to see these much needed improvements delivered as soon as possible."
Tags: