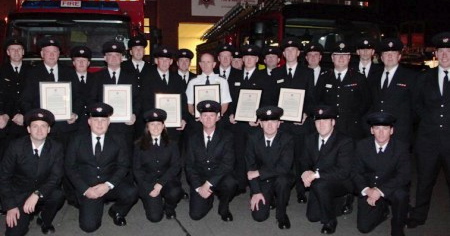 Members of the emergency services have been honoured for saving lives at a harrowing road crash which occurred near Strabane at the start of this year.
One person was killed and four seriously injured in the two-vehicle collision between a car and a jeep which occurred shortly before 11.00am on 8 January on the A5 Melmount Road, the main road from Sion Mills to Victoria Bridge.
Three of the injured were  "heavily trapped" in the vehicles and frefighters worked closely with colleagues from the Ambulance Service at the scene to treat casualties.
Firefighters from Strabane, Omagh and Newtownstewart fire stations, who attended the scene,  have been honoured with prestigious Chief Fire Officer Commendations and Citations.
A spokesperson for the Fire Service said: "There is no doubt that lives were saved by their swift action, teamwork and determination to keep all those who were seriously injured alive."
Watch Commander Michael Curran (Omagh), Firefighter Dean Molloy (Strabane) and Paramedic Officer John McClintock from the NI Ambulance Service were awarded Chief Fire Officer Commendations for their outstanding work at the scene.
Firefighters from Bravo Watch Omagh Fire Station, Strabane Fire Station and Newtownstewart Fire Station were all awarded Citations for their outstanding work at the scene.
Tags: