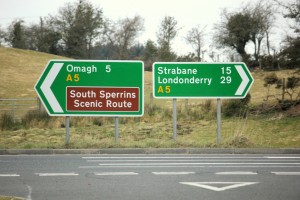 Sinn Féin's West Tyrone MP Pat Doherty and Donegal North East TD Pádraig Mac Lochlainn have called on the Irish Government to recommit to the development of the North West region.
They stated the Dublin government must ensure that it positively revisits the construction of the A5 motorway next year.
The Sinn Féin representatives were speaking following a meeting of the Good Friday Agreement Implementation Committee during which members received a presentation from the North West Cross Border Group.
Speaking from Leinster House, Mr Doherty said: "The North West region has been one of the hardest hit by the current economic crisis.
"It was unfortunate that the Irish government withdraw a substantial amount of its committed investment in the construction of the A5 motorway."
Deputy Mac Lochlainn said the development of the A5 was a "huge matter of concern" for the people on both sides of the border in the North West.
He added: "Given the rising levels of urban-rural disparity across the island, I am calling on the Irish government to take a positive approach when it revisits its commitment to the construction A5 motorway in 2015. I fear the region will experience further economic marginalisation if this does not happen."
Tags: