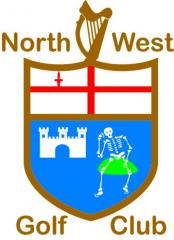 Martin Glenn  cruised home in pole position to win the Open Stableford competition at North West Golf Club on Saturday.
His excellent score of 41 points ff the back sticks – 22 points on the front nine followed up with a steady 19 points on the back nine – earned him a one shot over Declan Rennick (16).
Despite only scoring one point at the 90 yard par three 16th hole, Declan amassed a
superb 24 pointss on the back nine to add to his 16 points on the front nine.
Winner of the gross prize and best gross of the day was category two golfer John McGonigle (9) with score of 75.
Third place, playing off 14, was Michael Walsh with 38 points.
FULL RESULTS
1st Martin Glenn (20) 42 pts
2nd Declan Rennick (16) 40 pts
Best Gross John Mc Gonigle 75
3rd  Michael Walsh (14) 38 Pts
Tags: