The completion of public and private maintenance works in Poplar Road in the Waterside area of Derry – including the removal of overgrown foliage which was blocking road signs in the area  – has been welcomed by SDLP Derry City Councillor Martin Reilly.
The work was carried out after constituents had raised their concerns  with Cllr Reilly about overgrown foliage and the uneven nature of the road.
Cllr Reilly said: "Following my representations to both Transport NI (formerly Roads Service) and the private owners I welcome that Poplar Road has now received much needed re-surfacing work and that the untidy stretch of land in private ownership has now been trimmed back.
"Indeed, I am delighted that the private owners have taken the appropriate action to resolve this situation.
"In conjunction with local residents I was able to identify the owner of the stretch of land which was overgrown and an eyesore."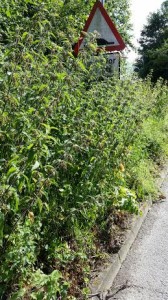 Cllr Reilly added: "After making representations to representatives of the owner who lives abroad, action has now been taken to remove the overgrown foliage which was blocking road signs in this area of the Waterside."
Tags: