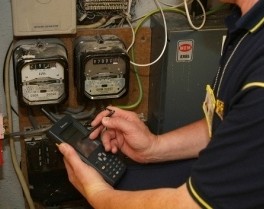 Sinn Féin Councillor Kevin Campbell has called for the "immediate lifting" of any threat against Northern Ireland Electricity (NIE) workers which has resulted in the power supplier withdrawing its meter readers from the Creggan area of Derry.
Cllr Campbell, who has been in contact with the company and the PSNI,  said as a result of the suspension of meter reading, customers were receiving "estimated bills" which was causing "grave concern" to householders.
Calling for the "immediate lifting" of what he described as the "ridiculous" threat against the  workers, Cllr Campbell said: "I was contacted by a number of residents who informed me that they were only receiving estimated billings and when they contacted NIE they were told that because of a threat against their workers they would not be sending staff into read meters in these areas.
"I have subsequently been told of other parts of the city where workers have to go in pairs for personal safety.
"This has caused grave concern among these residents as sending out estimated bills based on the last bill is not a true reading.  We are now entering the winter months and the amount of electricity people use in regards to lighting and heating their homes can double at this time of year.
"People normally budget for these bills but if they are receiving estimates based on the summer period there will no doubt be a shortfall. And when this issue is resolved, people will be faced with debt they have not budgeted for.
"This is very concerning  especially in the economic times we find ourselves in,people simply just do not have surplus money for any type of large unexpected  bill."
Cllr Campbell concluded: "The people behind these threats firstly need to withdraw them and need to realise that in the long run they are damaging this community and creating a financial burden down the line for local residents."
Tags: