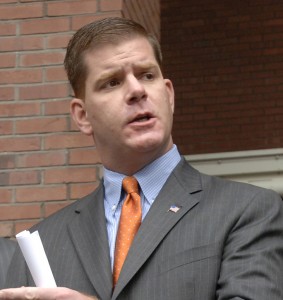 Mayor of Boston Martin Walsh is to visit Derry later this month, it has been announced.
Derry Mayor Cllr Brenda Stevenson said the visit would be a "fantastic opportunity" for city's stakeholders and representatives to showcase the city and re-establish "important links and connections."
Cllr Stevenson said: "Derry has a very strong connection with Boston.
It's one of the top five cities in the US and is the University capital of North America and a hugely important link for business investment, culture and tourism development.
"We are delighted Mayor Walsh is taking time during his scheduled visit to Ireland to visit Derry.
"During his short time in the city he will meet with representatives from An Culturlann and the Apprentice Boys of Derry and attend a Mayoral Civic reception.
"We are very keen to develop on our existing links and relationships to look at potential opportunities for joint up working on a range of issues including life science, digital technology , culture and tourism, and look forward to promoting the wider North West region to him and his delegation."
Mayor Walsh is expected to visit Derry on Wednesday and Thursday, 24 and 25 September.
Full details of his visit and itinerary are currently being finalised.
It is understood he has family connections in neighbouring Donegal and during his time in the North West he will visit the county.
Tags: