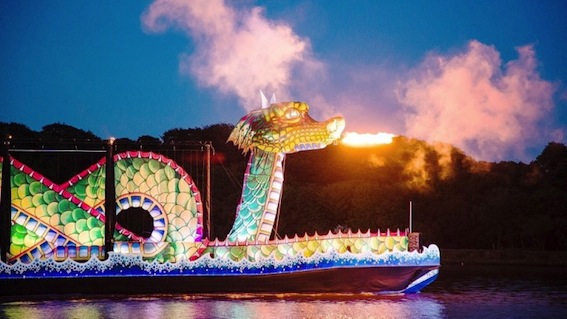 The Return of Colmcille, one of the highlights of Derry's year as City of Culture has been shortlisted as a finalist in the Best Outdoor Event category at the 2014 Event Awards.
The annual awards are the only industry accolades that celebrate the creative, experiential and supplier sectors of the live events industry.
Created in partnership with Frank Cottrell Boyce, writer of the London 2012 Olympic opening ceremony, the Return of Colmcille was a £1.25 million commission – designed as a centrepiece to the first ever City of Culture programme in Derry.
The once in a lifetime event, which comprised five individual shows in just a 30 hour period, told the story of city's founder St Colmcille; monastic superhero, historic vanquisher of the Loch Ness monster and key figure in the spreading of literacy and the concept of peace-making across Europe.
Pageantry, procession and spectacle unfolded in spectacular style across two days, as the most ambitious outdoor arts project in Northern Ireland's history saw the saint return to his city to experience stories of all that he'd missed during his exile on the Scottish Isle of Iona.
Event Awards winners will be announced at a ceremony in London on 2 October next.
Previous finalists in the Best Outdoor Event category include Live from Jodrell Bank: Transmission 001 (Winner 2012) and Festival Number 6 (Highly Commended 2013).
Tags: